On Cyber Monday, just a couple of days ago, Motorola announced and tried to launch a $150 sale on its Moto X handset. For whatever reason, the site was pulled and Motorola instead delayed the offer for a week.
From 12pm noon (Eastern) on Monday, December 9th, a registration form will go live at motorola.com/holiday2daysale. You then have to register and wait for Motorola to email you your unique, one-off code. Once you have your code, you have two days to redeem it. Codes expire at Midnight (Eastern) on December 11th. You'll also be able to get 30% off select accessories by entering the code "THANKS" at checkout.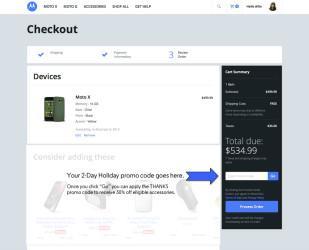 Once registration goes live next Monday, you will have to be quick to register. Once the registration limit has been reached, the form will close and the page will no longer be available. So if you want a $349 Moto X, don't hang around too long. If the limit is not reached, the form will close at Midnight on Monday, the day of launch. It's worth noting that you can apply the $150-off promo code for the Moto X on the 32GB version too.
Essentially, Motorola's system crashed on Monday gone and so the company has moved Cyber Monday back 7 days.
Accessories not included in the 30% off deal: Chromecast, Roadster Pro, Moto G Case and Shells, JBL Micro Wireless, Micro USB Power Cable, DECK and TRACKS AIR by SOL REPUBLIC x Motorola products
Do you plan on ordering one, or would you rather just get a Nexus 5 for a similar price?