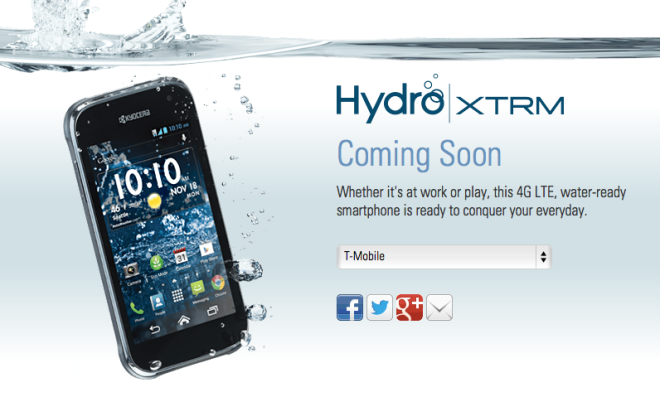 Earlier today Kyocera announced its latest Android-powered smartphone. But it's a little different from its previous offerings. The Hydro XTRM (presumably pronounced "extreme") is designed to handle all the rough and tumble you could possibly throw at it. It's waterproof, drop-proof and shock-proof. And it's been designed specifically with businesses in mind. Particularly businesses where more durable hardware is preferable.
A run down of a few specs
IP57 certified for protection against dust, and water submersion up to 3.28 feet (1 meter)
Reinforced corners and impact-resistant display
Meets Military Standard 810G for shocks and drops
4G LTE
1.2GHz Snapdragon processor
Smart Sonic Receiver technology, helps users hear conversations in noisy environments
Wi-Fi calling support
Wi-Fi hotspot
4-inch FFS (fringe field switching) display
800 x 480 resolution (233ppi)
5.0MP rear camera
1.3MP front facing camera
2000mAh battery
Runs Android 4.1 Jelly Bean
All in all, it's clear that specs weren't the key focus here. It's about making a capable and durable device, designed to be bought in bulk and handed out to a workforce who spend their days in industrial sites. It's only going to be available through the B2B channels from November 2oth.
To find out more, head on over to the splash page.