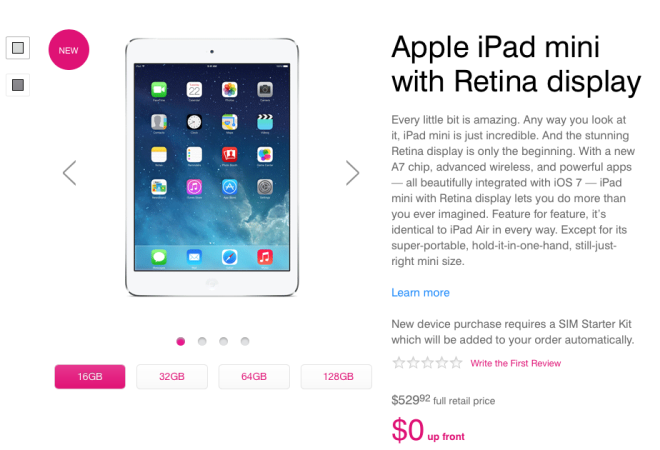 A couple of days back, we read news stating that the latest iPad mini would be going on sale through T-Mobile's own retail channels, both online and in store. The initial date given was November 16. Turns out, Tmo changed the release date and is offering it up for sale now. Orders went live from 12:01am Pacific this morning (3:01am Eastern).
Stock is low, so you'll need to get your orders in quick:
T-Mobile's initial quantities of iPad mini with Retina display are rather limited. We recommend customers place their order as soon as possible Thursday online at www.t-mobile.com or participating T-Mobile retail stores. Delivery of these devices is on a first-come, first-served basis. We do not have exact details on when we will receive incremental inventory. We will continue to pursue that information and will provide updates as it becomes available. T-Mobile will continue to be transparent with our customers about our services and expected customer delivery of iPad mini with Retina display.
Pricing is simple. 16GB model will be $0 down on EIP with 24 monthly payments of $22.08. 32GB and 64GB models will cost $99 or $199 up front respectively, with the same monthly payments as the lowest storage model. The 128GB model, unmentioned on the press release, will also be available for $299 up front.
New customers purchasing the tablet will also need to sign up to a paying service agreement with Tmo, whereas existing T-Mobile customers can get the tablet on EIP without needing to sign up for a new data plan.
To buy one, head on over to the iPad mini order page on T-Mobile's website.