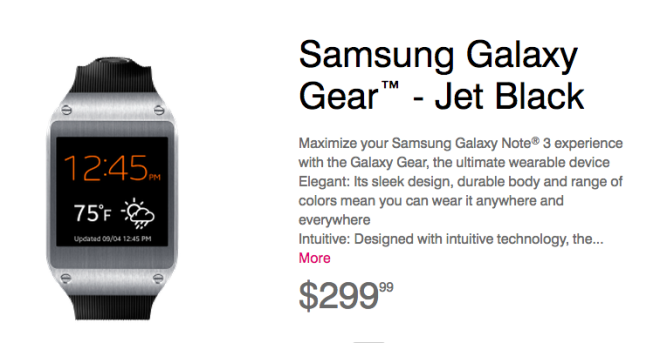 Update: T-Mobile reached out to in a brief statement hoping to address the concerns customers have had about their canceled orders:
A limited number of customers recently purchased Samsung Galaxy Gear on www.T-Mobile.com<http://www.T-Mobile.com> using a discount code intended for smartphone accessories such as protective covers and cases. While Galaxy Gear was not intended to be a part of this accessory promotion, we acknowledged the error and honored the discount for customers who placed a single order for the Galaxy Gear device. If a customer placed multiple single unit orders, we honored the discount for one device. We apologize for any inconvenience this may have caused.
In a move that is upsetting some early adopting Galaxy Note 3 customers, T-Mobile has canceled orders of the Galaxy Gear using the "FALLFUN30" discount code. T-Mobile began notifying customers of their canceled order last night with a generic email and little explanation. Needless to say, T-Mobile alerted customers in the email they will be kind enough to "allow" customers to reorder the Galaxy Gear at the correct price.
I'm a little torn about how I feel about this, on the one-hand I can't help but feel this is one of the moments that separates good customer service from the Best Buy's of the world. Customers ordering the Galaxy Gear likely just ordered the Note 3 and are among the most early of adopters on T-Mobile's network. That in and of itself doesn't and shouldn't earn them any special treatment but it doesn't mean they should feel slighted either. I imagine the volume of Galaxy Gear pre-orders using this discount code is relatively low and it wouldn't cause too much damage to T-Mobile's bottom line to honor the price. Any financial loss would easily be made up by the goodwill it would earn with these customers and the word spread through the grapevine that T-Mobile stepped up and did the right thing.
A quick Tweet last night on @TmoNews showed the ire of customers who had already received this email notification and I feel safe saying there is an overwhelming sense of aggravation at how T-Mobile handled this move.
Should T-Mobile step up to the plate and honor the discount code for early adopting Galaxy Gear customers? Let me know your thoughts.
Dear T-Mobile Customer,

Our apologies. You recently ordered an item that was listed at an incorrect price: the Samsung Galaxy Gear™. We are unable to fulfill this transaction. Rest assured, your credit card has not been charged.

You can reorder the Samsung Galaxy Gear at the correct price here

We sincerely apologize for any inconvenience.  Thank you for being a T-Mobile customer.  We truly appreciate your business.

Thank you,

T-Mobile Customer Care

Please do not reply to this email.  For assistance, please call 1-800-672-5390.

See our Terms and Conditions and website Terms of Use at www.t-mobile.com  for additional information. T-Mobile and the magenta color are registered trademarks of Deutsche Telekom AG. © 2013 T-Mobile USA, Inc.