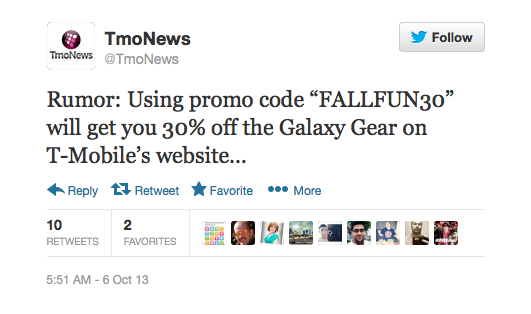 If you're looking to score a Galaxy Gear with your Samsung Galaxy Note 3 purchase, please take "note" of this post. Thanks to TmoNews reader "JW" who notified me that using promo code "FALLFUN30" knocks 30% off the retail price. The promo code takes the cost of the Galaxy Gear all the way down to $209.99. This deal only appears to work on T-Mobile's website and there's no telling how long it'll stay good for. Now that it's out in the open, time may be limited…so if you're wavering back and forth about purchasing, there's no time like the present.
The Galaxy Gear may not be the most well-reviewed "Galaxy" product to come out of Samsung lately, but a 30% discount allows some leniency as the company works out the kinks. Early reviews have ranged anywhere from downright disdain to moderate satisfaction, so if your expectations are tempered for a first-go at a wearable companion product to a smartphone this might be worth checking out.
Regardless of the reviews, here's a nostalgic commercial Samsung just released for the Galaxy Gear.