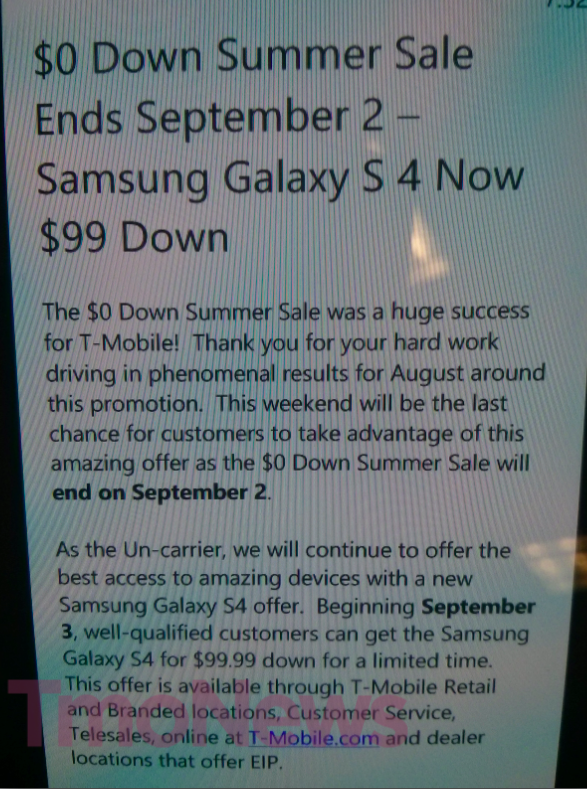 T-Mobile's kinda, sorta, maybe "sale" offering $0 down on just about every smartphone in store is coming to close tomorrow. The special offer or "unparalled promotion" as the carrier labeled it allowed both new and existing well-qualified customers to get the latest 4G LTE smartphones, tablets, mobile hotspots and feature phones at the upfront price of $0 down with monthly service payments.
Unfortunately, the promotion itself was more of a teaser offering no initial down payment but a higher equipment installment price down the road. For example, prior to the sale the HTC One was selling for $99 down and 24 monthly payments of $20 each. During the $0 down sale, the HTC One had no upfront cost, but 24 monthly payments of $25 each. T-Mobile would remove the iPhone 5 from the sale back on August 9th, however before the promotion the iPhone 5 sold for $145.99 down with 24 monthly payments of $21. With T-Mobile's "unparalleled promotion,"  the iPhone 5 was zero down and $27 per month for 24 months. Unfortunately, no reason was ever given about why the iPhone 5 was removed from the offer.
Still, that's not say the deal wasn't a good one for customers looking to walk right into a store and walk out without paying a dime. Not to mention that even with the increased monthly payment, T-Mobile still works out to be cheaper than AT&T or Verizon more often than not. We won't know till T-Mobile's next quarterly financials what kind of impact (if any) this sale had on the company's new subscriber count, but I imagine given the length of time the sale was up for grabs, T-Mobile expected a runaway success.
Take note that with the sales end, the Galaxy S 4 will return to $99 down for a limited time. The offer is good through just about every T-Mobile company-owned channel. T-Mobile is also extending the open-enrollment period for JUMP!, hoping more customers will recognize the "opportunity to join this amazing program."