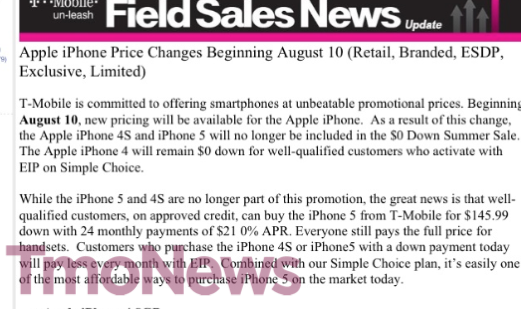 Coming off of yesterdays high with T-Mobile's best quarterly financial results in years is some news that will surely disappoint some future iPhone buyers. Beginning tomorrow, August 10th T-Mobile will remove the iPhone 5, iPhone 4S and from their $0 Down Summer Sale. Unfortunately, no reason is given for the move, and the leaked images don't offer any reasoning for the price change. As it stands, the  iPhone 5 will return to its earlier price point of $145.99 down with 24 monthly payments of $21.
Of course T-Mobile tries to spin the news by emphasizing the smaller monthly payment with the regular up front cost, but it's still disappointing to see the iPhone singled out from this promotion. While T-Mobile CEO John Legere won't credit any one device with helping T-Mobile's most recent quarterly numbers, 900,000 iPhone devices sold didn't exactly hurt. It's sad to see that future buyers might be brought into a store by the promise of a promotion only to discover the iPhone doesn't qualify.
I hope the T-Mobile works to make sure customers know ahead of time that the iPhone is no longer eligible for this offer.