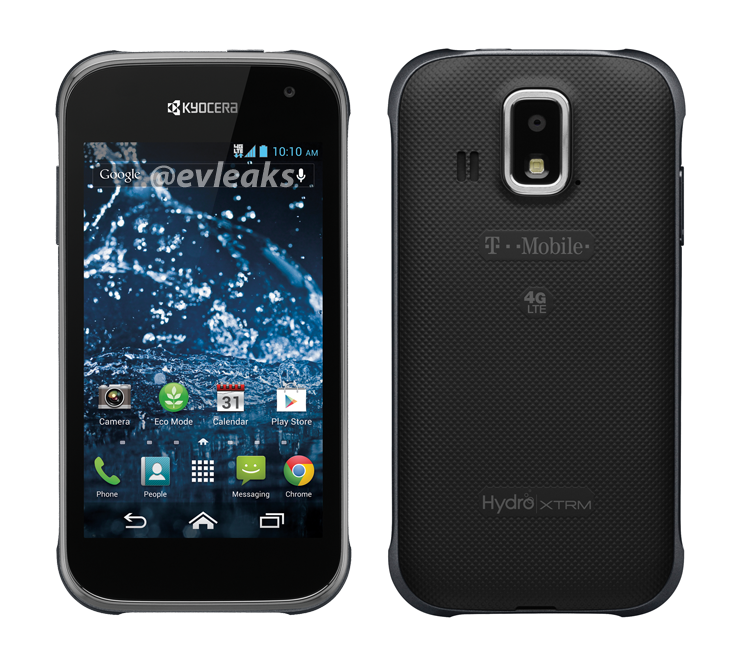 Say hello to the Kyocera Hydro XTRM (extreme), a newly discovered T-Mobile branded device that outed on Twitter by our friend @evleaks. A quick Google search yields the Hydro XTRM as a smartphone for the rugged lifestyle, thanks to its waterproof and dust-proof build.
The Hydro XTRM also features:
Durable Design – Military Standard 810G for shock, dropped 26 times from 4 feet
Smart Sonic Receiver technology – hear conversations clearer than ever before in noisy environments
Fast and smart – 1.2GHz dual core processor for fast access to apps and web surfing
4G LTE™ – connect to the world at speeds up to 10 times faster than 3G
Android 4.1 (Jelly Bean) – featuring Google Play™ with access to thousands of Android apps
5.0 megapixel camera – with flash and video camcorder and 1.3MP front-facing camera
All in all, the Hydro XTRM looks to be a fairly decent mid-range device and when you add Jelly Bean/LTE connectivity, it may be a phone T-Mobile can use to capitalize on the B2B market. Rugged devices have always lingered on the edge, but there's a definite audience of folks who can use a device that will hold to up while working in the toughest of conditions. Performance isn't likely to be the selling point of a device like this, instead, it's outdoor capabilities paired with durability will be the biggest reasons to consider this Kyocera smartphone.
No word on price or release date. More info at Kyocera's website.