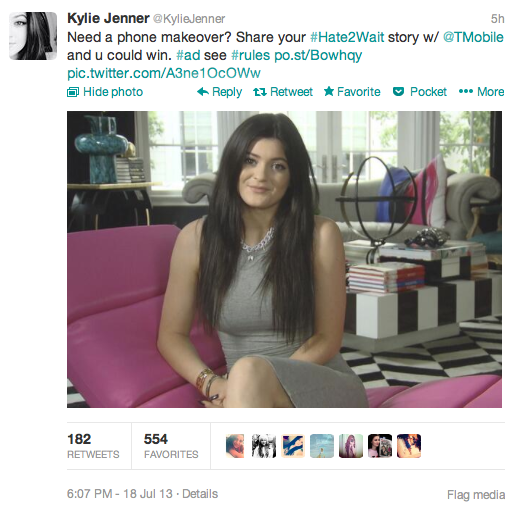 T-Mobile's #Hate2Wait program is in full swing with 730 Galaxy S 4 smartphones up for grabs. To be honest, I'm totally behind T-Mobile's JUMP! program but they lost a bit of me with the use of another Kardashian sibling in their marketing.
Kyle Jenner, fashion icon? You mean Kylie Jenner, E Reality star? That's an insult to real fashion icons the world over. At least Summer Sanders and Peyton Siva have professional sports backgrounds — but come on T-Mobile, enough with the Kardashian family. /End rant.
As a quick refresher, T-Mobile's #Hate2Wait program asks T-Mobile customers to ""upload their story to Facebook or mention @TMobile and #Hate2Wait #rules on Twitter, Vine, or Instagram for an opportunity to win one of 730 Samsung Galaxy S 4 devices. A grand prize winner will have their story featured in a T-Mobile national advertising campaign."
The contest begins July 10th, 2013 at 12:00 AM Eastern Time and ends on July 31st, 2013 at 11:59 AM Eastern Time. Then, on August 7th at 12:00PM Eastern Time you can come back and vote for your favorite finalists.
Someone please enter and remove the searing image of the Kardashian siblings out of my mind.