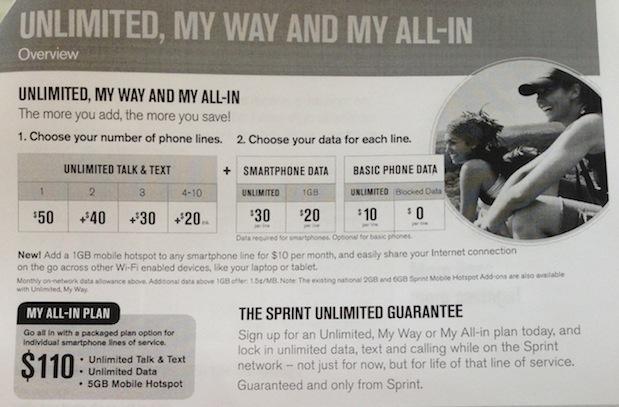 While T-Mobile's CEO John Legere and CTO Neville Ray made no attempt to hide their laughter at Sprint's pitiful data network, the "Now" network is preparing to challenge T-Mobile right back. The folks at PhoneArena received the image via an anonymous tipster and Engadget has learned the plans are correct and could kick off as early as tomorrow, Friday, July 12th.
Sprint looks to replace its existing "Everything" plans with new "Unlimited, My Way" options. There's no need for current Sprint customers to switch, but it brings a new set of plans for future Sprint customers to choose from.
The setup is pretty much how T-Mobile has it, with one line of unlimited talk and text for $40 per month. A second line adds an additional $40, a third line is an extra $30 with lines 4-10 added for an additional $20 each. Smartphone data can be added to each line for $30 for unlimited and $20 per line for 1GB of data.
Sprint is touting these plans as an opportunity to "lock in unlimited data, text and calling while on the Sprint network — not just for now, but for the life of that line of service. Guaranteed and only from Sprint." If you want to go all-in, there's a plan for you for just $110 that offers unlimited talk, text, data and 5GB of data for mobile hotspot use for $110.
Comparatively, T-Mobile offers $50 for the first line, $30 for the second line and each additional line is $10 per month. T-Mobile customers can choose from an array of data plans with most customers opting for either the 2GB plan for $10 per line per month or the unlimited plan for $20 per line per month. T-Mobile doesn't make the same "keep it for life" guarantee that Sprint does but that's ok, I'll accept lower pricing now and take my chances later.
Will Sprint be able to better compete with these new offerings and open up a larger gap between the #3 and #4 carriers? Well, if Sprint really wants to keep T-Mobile at arm's length, they really should focus on those horrid data speeds first.