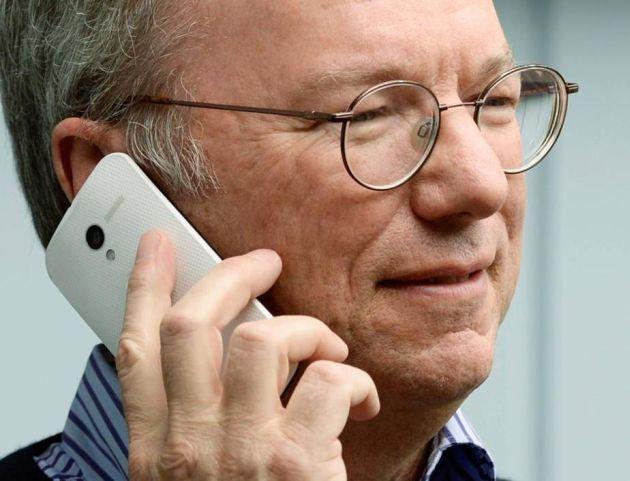 There's no shortage of times when its good to be the boss and Eric Schmidt reminds us of that as he's pictured using Motorola's upcoming Moto X smartphone. Schmidt is attending the Allen and Co media conference in Sun Valley, Idaho and if I didn't know any better, I'd say he almost looks to be intentionally posing with this device.
Schmidt shows off a model with a white black, clear-as-day Motorola logo and an all black front. Think White Nexus 4 and that's the color scheme we're looking at with this model. The device appears to be slightly thinner on the outside with a little bulk in the middle and might just be design, or maybe that's where the extra-long battery is hidden away.
With rumors that this device will come to all four national carriers, our attention has suddenly turned from watching the Moto X news go by to a potential welcoming back of Motorola into the T-Mobile fold. A Moto X launch on the UNcarrier would be so very welcome and help wash away any lasting bad taste that remains leftover from the launch of the Cliq, and Cliq 2 launches oh so long ago.
Variety's Financial News Editor, Rachel Abrams attempted to extra some info on the Moto X from Schmidt who would only respond by saying "I'm not allowed to comment on the nature of this phone."
There's a good look at the device from multiple angles in the gallery below so check it out.