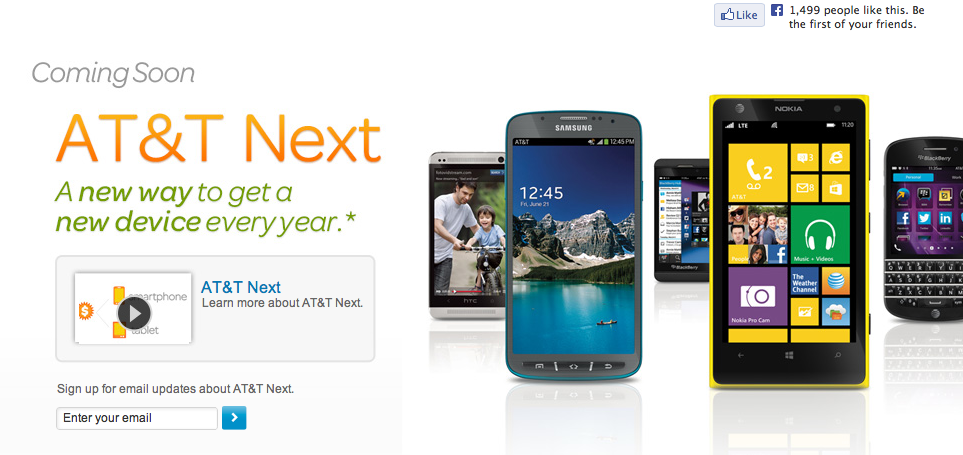 AT&T will copy follow T-Mobile's lead with their JUMP! upgrade program and introduce "AT&T Next." With Next, AT&T customers will have the opportunity to buy a new smartphone or tablet every 12 months with no activation, upgrade or financing fees.
With AT&T Next, customers purchase a smartphone or tablet with no down payment and agree to pay monthly installments for the device. After 12 payments, they can trade it in and upgrade to a brand new device — again with no down payment — or they can keep using their device and have no more payments after 20 months. AT&T Next is available for new AT&T customers or existing customers who are upgrade eligible.

"With AT&T Next, customers can get the newest smartphone or tablet every year with no down payment. That's hard to beat, and it's an incredible value for customers who want the latest and greatest every year," said Ralph de la Vega, president and chief executive officer of AT&T Mobility.
In a way, AT&T will try to "one-up" T-Mobile (and Verizon since their "VZ Edge" program leaked yesterday) by shouting from the rooftops that there is no down payment, but it ignores AT&T's higher monthly costs on a rate-plan basis. For instance, AT&T customers purchasing a 16GB iPhone 5 would pay $32.50 per month for 12 months and could then upgrade to the latest iPhone by trading in their old device. Over the 12 month period, customers would pay $390 with the phone being "purchased back" by AT&T for $260. The next phone purchase would then be at the monthly payment price. If a customer chooses to make 20 monthly payments, they can upgrade to a new device and keep the old one.
AT&T next payments will range from anywhere between $15-$50 depending on the device selected. For example, a Galaxy S 4 would require no down payment and $32 per month in addition to the wireless monthly service plan.
So, AT&T can (and will) highlight the lack of down payments and that's all well and good, but it all comes down to who offers the better deal and from our end, it's still T-Mobile — especially when rate plan pricing becomes a factor. Considering that AT&T still hits you with the plan subsidy and installments on the full device cost, T-Mobile doesn't have to worry about losing any momentum with their "Uncarrier" strategy.