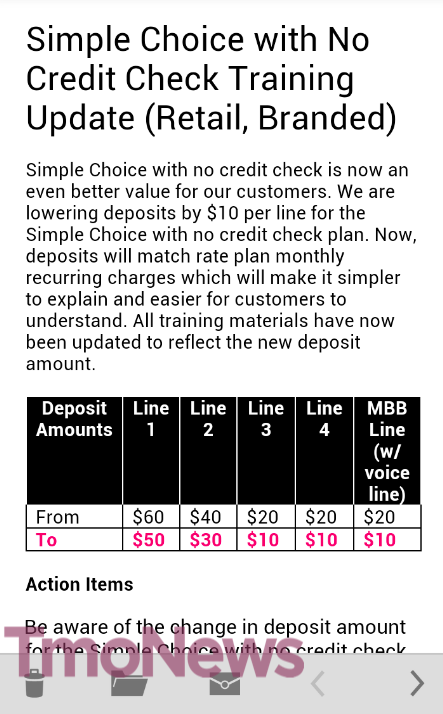 With T-Mobile's "Simple Choice with No Credit Check" rate plan still unannounced, changes behind the scenes aren't entirely unexpected or surprising. Given that, it came as little surprise when this new tidbit was dropped in my inbox indicating T-Mobile had lowered the deposit cost by $10 per line. According to the image: "Deposits will [now] match rate plan monthly recurring charges which will make it simpler to explain and easier for customers to understand."
As mentioned yesterday, the upcoming SCNC rate plan is quite reminiscent of FlexPlay providing T-Mobile customers with the full rate plan experience without the burden of a credit check or high deposit. Or in T-Mobile language:
"Simple Choice with no credit check (SCNC) is a new service option for Prepaid customers who want an Un-limited and Un-restricted family plan experience without a credit check."
Pricing is the same as the current Simple Choice pricing, however data pricing is limited to either the included 500MB of data already allotted for each line on a family plan, 2.5GB data or the Unlimited Plan which includes 500MB for tethering. The SCNC rate plan for Mobile BroadBand includes three options: 500MB, 2.5GB or 4.5GB.
We're told that the launch of the new rate plan as part of UNcarrier "Phase 2" is now expected on or around July 14th.