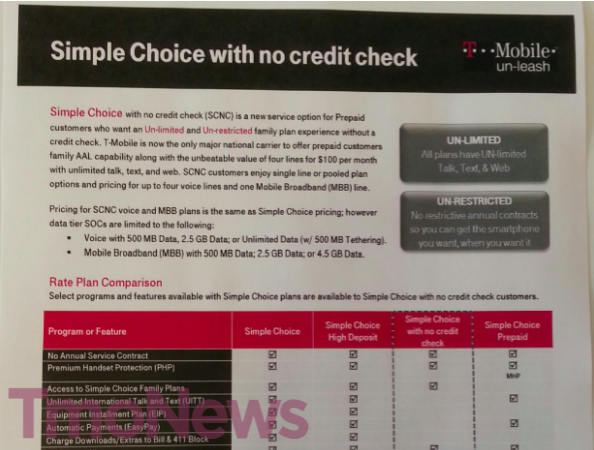 With the knowledge that training began yesterday, it's clear that T-Mobile's Simple Choice with no credit check rate plan is on the cusp of being announced as part of T-Mobile's Phase 2 Uncarrier strategy. The plan itself is almost reminiscent of FlexPay, where it provides T-Mobile customers with the full T-Mobile rate plan experience without the burden of a credit check or high deposit.
"Simple Choice with no credit check (SCNC) is a new service option for Prepaid customers who want an Un-limited and Un-restricted family plan experience without a credit check."
Pricing is the same as the current Simple Choice pricing, however data pricing is limited to either the included 500MB of data already allotted for each line on a family plan, 2.5GB data or the Unlimited Plan which includes 500MB for tethering. The SCNC rate plan for Mobile BroadBand includes three options: 500MB, 2.5GB or 4.5GB.
So what's missing from these plans? For starters, there is no equipment installment plan which means you're paying up front for the device. Along with the up front cost of the device, there is a small deposit per line as well. On a four line family plan, the first line requires a $60 deposit, line 2 a $40 deposit and lines 3 and 4 a $20 deposit. The fifth line on a five-line family plan on SCNC can only be used for a Mobile BroadBand line which also requires a small $20 deposit. Given that billing on these new plans is in arrears, it seems that the deposit is used or can be used for non-payment.
Other differences include the loss of Unlimited International Talk and Text as well Automatic Payments (EasyPay). Payments will be made within three days of the due date and must be done in-store or online, over the phone.
All in all it's a nice new addition to the lineup and I imagine for a small group of customers it could be very appealing. However, the lack of a equipment installment plan will likely be a determining factor in showing customers the benefit of this new rate plan. The success or failure of this new group of rate plans is bound to be based on how well T-Mobile retail sales representatives can position them in stores.
Am I the only one who sees this as the semi-return of a FlexPay-esque rate plan?