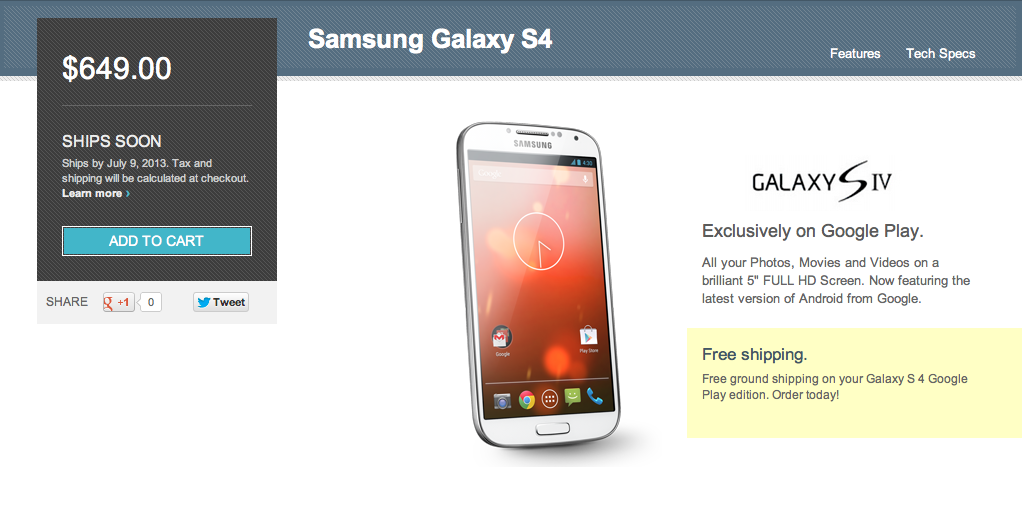 Today is the day for all your stock Android fans as the HTC One and Galaxy S 4 Google Play vanilla/stock Android Google edition devices make their way into the Play Store. Keep in mind that the Galaxy S 4 is the "better" device for T-Mobile given the complete spectrum of frequencies available to cover all of T-Mobile's needs. The HTC One on the other hand lacks the 1700 AWS HPSA+ band so is best picked up by customers in refarmed 1900 PCS HSPA+ areas.
Regardless of which device you choose, the option to pick up your favorite hardware with what amounts to a vanilla Android experience may be well worth the price of admission. The special edition HTC One (32GB) will be priced at $599 with the Galaxy S 4 (16GB) priced at $649. It has been said that the Galaxy S 4 is really just a stock Android variant of the T-Mobile edition given the wide spectrum availability, an idea suggested by a report from AnandTech.
This special edition device, priced at $599, will be available in the United States (initially) and supported on GSM networks. Out of the box, this special edition HTC One will run Android 4.2.2 with subsequent software updates provided by Google.
Both variants will only be sold through the Google Play store and yes, Google says the devices will receive "prompt system updates" but they won't be coming from Google.  Last but not least is the knowledge that as "Google Experience" devices both the HTC One and Galaxy S 4 will come with a unlocked boot-loader.