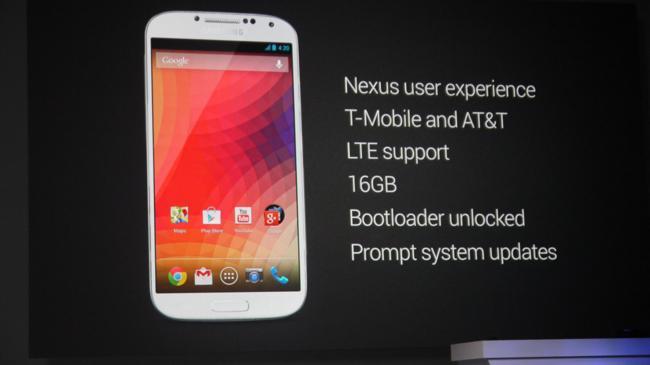 As Google surprised the Android world with the release of a "Nexus experience" Galaxy S 4 last week at Google I/O…questions arose about which model Galaxy S 4 it is? As it a new report from AnandTech suggests, the as of yet officially named Galaxy S 4 is a T-Mobile Galaxy S 4 hardware variant.
The Galaxy S 4 on T-Mobile which is also known as the SGH-M919 has always had support LTE on bands 2,4,5 and 17…or 1900, 1700/2100 (T-Mobile AWS), 850 and 700. Of course the AT&T model also has most of these frequencies save for locking the AWS WCDMA band that T-Mobile would need for 1700/2100 AWS access.
So what does all of this mean? Well, for one it means Snapdragon 600 and not Exynos 5. Google may be calling it a "Nexus user experience" nomenclature and that's just fine with us, even if we can do most of this through a bit of rooting on the official T-Mobile-branded Galaxy S 4.
The good news? Updates will be delivered by Google and not T-Mobile or Samsung which is reason alone to consider this device. That's straight from the mouth of  Matias Duarte, who is head of Android User Experience at Google so he's someone who would know the definitive answer to software updates.
Now all you have to do is decide whether you can stomach the $649 price tag.