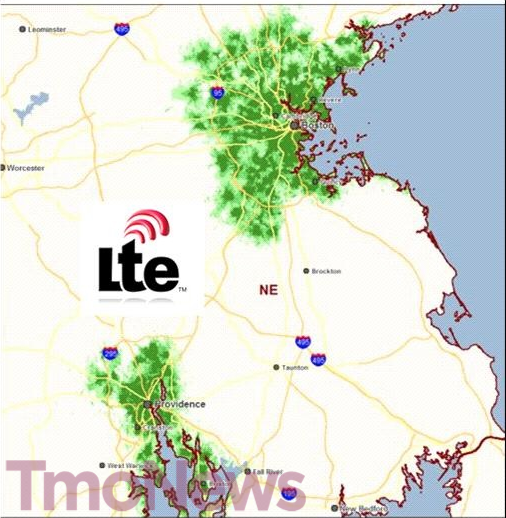 Chalk this up with the standard rumor warnings, but according to this statement I just received from a host of sources in the New England area, T-Mobile has green lit Boston, MA and Providence, RI with LTE. That's based on this internal statement we received that went out to area employees announcing the LTE activation. As far as I can tell, no other markets saw a similar announcement today but that's not to say some of the markets we've seen sightings in haven't soft launched. It's likely that a number of markets are well into the last few testing stages and we will see an official announcement for many markets in the very near future. At least that's our hope if T-Mobile wants to hit their target goal for 100 million POPs covered with LTE by summers end.
Sound off Bostonians and Providence residents, how's the signal where you are?
Good morning everyone,

I am happy to report that the New England Market has successfully launched LTE in the Boston, MA and Providence, RI Metro areas of New England as of 1:00am this morning, June 14th. Please refer to the map below for a coverage footprint and a table of geographic references where LTE is now active.

This is a major milestone for the New England Network and the team members from the Network Engineering, Operations and Development teams.

Initial Performance results are good so far and we are seeing Max Downlink Throughput values of >30Mbps and Max Uplink Throughput values of >9Mbps from our statistical analysis. The Network Engineering & Operations teams will continue to monitor the initial performance of the new LTE network throughout the day and over the weekend.

Looking ahead – this LTE footprint is just our Launch area so you can expect the footprint to grow over the coming weeks and months. We will communicate these updates accordingly via email and in our next Engineering update meeting with your teams.
Note – For those of you located in the Newton Sales office, you can expect the cell site covering the office to be LTE activated by the end of June. (It had not passed all the necessary quality checkpoints in time for this launch but we anticipate it being ready in the coming days).