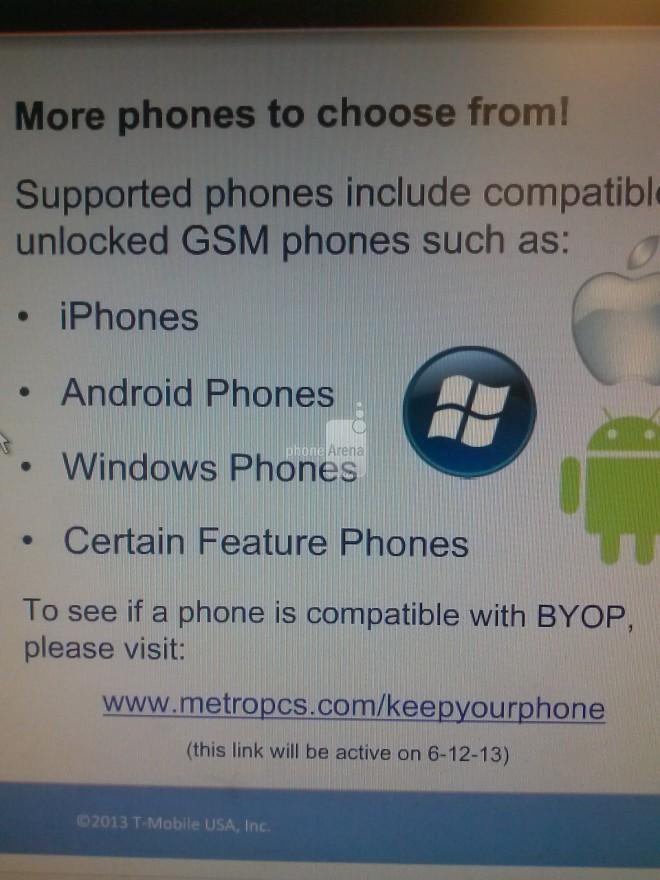 We knew this day would come and thanks to a trio of screenshots leaked to the boys at PhoneArena, we know an actual date. Beginning June 12th, MetroPCS customers will have the opportunity to use compatible unlocked GSM phones which include iPhones, Android, Windows Phone and certain feature phones. There's no telling just how many devices out of the Android lineup Metro customers will be able to choose from, but it's clear T-Mobile and MetroPCS are moving fast to offer the latter customers with more options. As of June 12th, Metro customers will head to www.metropcs.com/keepyourphone to find which unlocked devices will be available.
That's not all the news we can gleam out of these shots however as two T-Mobile-based devices are also heading to MetroPCS shelves in the coming days. The LG Optimus L9 and Galaxy Exhibit are both set to launch soon, but no official date is noted on either image. Unfortunately, price isn't pictured either but we're guessing both devices will hover in the middle of Metro's price range as both devices are true mid-range smartphones.
With the MetroPCS merger now more than 30 days behind us, it's great to see both companies moving quickly to bring more choices to the Metro lineup. Let's hope that lineup extends to all of T-Mobile's devices soon.