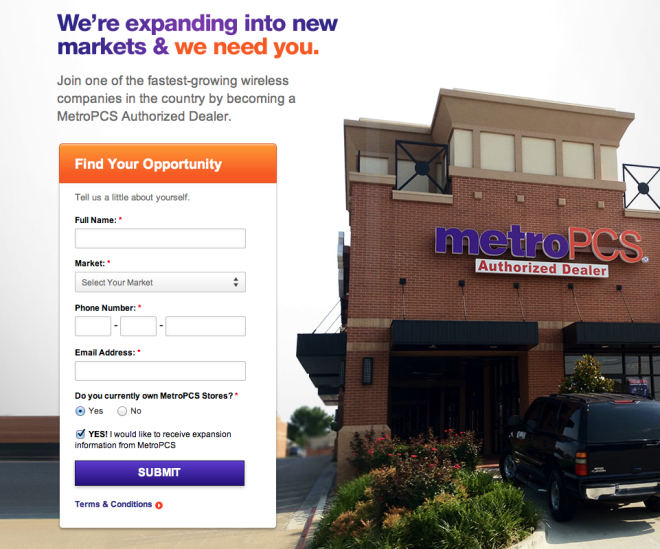 As T-Mobile discussed plans to begin integrating the MetroPCS network in Las Vegas in the coming days, they also expanded on their plans to push MetroPCS into 15 more markets. It was back on May 1st that T-Mobile CEO John Legere hinted at expanding MetroPCS into more markets. His comments coincided with comments new T-Mobile CFO Braxton Carter made about expanding into at least three more markets upon the completion of the T-Mobile deal.
It was Carter who expanded on these plans at the JP Morgan Global Technology, Media and Telecom Conference by saying they were looking at a "more aggressive expansion" of the MetroPCS national footprint.
In fact, Carter says they plan to "expand to 15 additional major metropolitan areas very quickly." Unfortunately, no markets were specifically named but they have previously say Houston, New Orleans, San Diego, Seattle, Washington DC and Baltimore are targeted markets. They plan to hit these areas and the rest of the 15 markets beginning in the third quarter and into early 2014.
As for handsets, Carter said that they are "weeks away" from offering HSPA+ and LTE smartphones in MetroPCS distribution channels.
As for the company's current refarm situation, they have moved past their target of 170 million POPS covered with HSPA+ on the 1900MHz band by mid-year. They also stated they are well on their way to passing more than 200 million POPS covered by 1900MHz HSPA+ by years end.
Lastly, T-Mobile's CTO Neville Ray said they are looking at next years auction of 600MHz broadcast TV spectrum. Ray called the spectrum "a far more effective way to go and build those opportunities out" when talking about how T-Mobile can counter the lower spectrum bands of AT&T and Verizon.