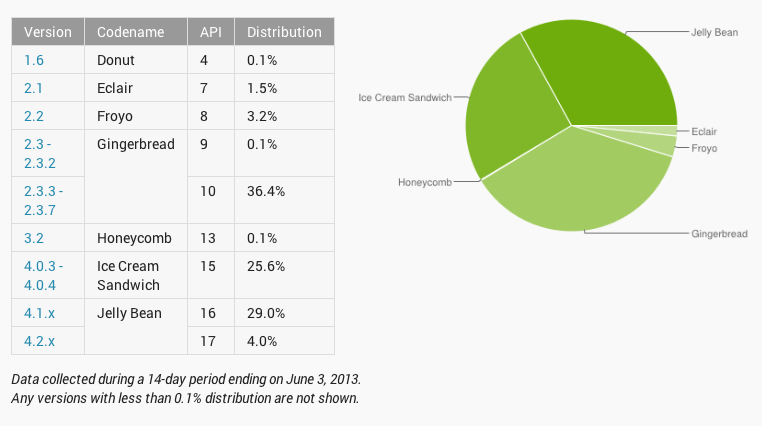 A new month means a new Android distribution chart and that's exactly what we have for you this morning. Some more good news for Jelly Bean as it continues to scratch at the Gingerbread man as it moves from 28.4% of all Android devices to 33%. For its part, Gingerbread remains the Android software leader at 36.5% but our expectation now has that lead finally changing hands perhaps as soon as next month. That's a 4.6% increase for JB from last month and a drop of 2% for Gingerbread.
Ice Cream Sandwich is enjoying a 25.6% chunk of the pile while Froyo, Eclair and Donut combine for less than 5%. Ice Cream Sandwich is continuing to fall to the benefit of Jelly Bean but that's one statistic we can get behind.
The distribution chart for the 14 day period ending June 3rd, 2013 marks yet another month that Android 4.x devices sit above the 50% mark for share of the Android pie. Let's just hope that when July's chart comes around, we finally see Gingerbread make way for Jelly Bean to wear the Android software crown.