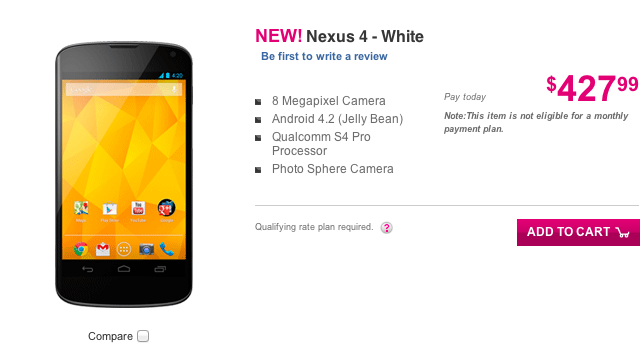 Ignore the pricing on the picture folks but take heart in knowing that T-Mobile has released the Nexus 4 in white on T-Mobile.com for a limited time. Barring the error in pricing on the website, the Nexus 4 will set you back a $19.99 down payment and 24 monthly payments of $17.
Simple, beautiful, and beyond smart. With cutting edge hardware, your favorite Google Apps, and the latest version of Android™, the Nexus 4 puts the best of Google in the palm of your hand—all on T-Mobile's nationwide 4G network.
• The latest version of Google Now with Voice Search and a smarter keyboard, now with gesture typing
• High-performance 8 MP camera featuring amazing new 360° Photo Sphere; HD video in 1080p
• Built-in wireless charging capability
This is the same Nexus 4 as released last year, but if you have a thing for white phones like I do, perhaps the time has never been better to get the one-true Nexus device.
Starting May 31, T-Mobile will offer the Google Nexus 4 by LG in a white color finish for a limited time at www.T-Mobile.com. The Nexus 4 by LG will continue to be available in the black color finish at participating T-Mobile retail stores.

When combined with T-Mobile's Simple Choice Plan, the Nexus 4 by LG can provide amazing 4G experiences at a superior value – with access to unlimited 4G data on a nationwide 4G network – that only T-Mobile can deliver. The Nexus 4 by LG is available for $19.99 down with 24 equal monthly payments of $17 for well-qualified customers with 0% APR on approved credit[1].