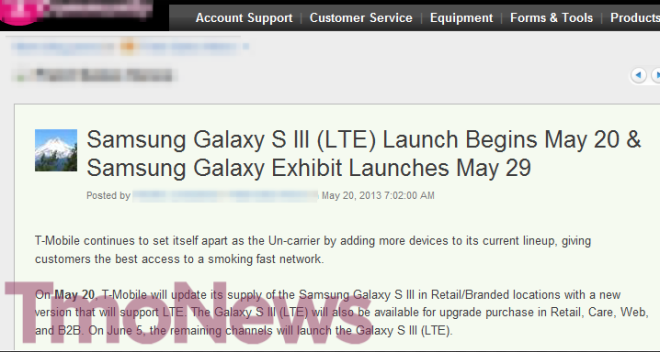 Hold the phone T-Mobile fans as our intel from yesterday is outdated almost immediately as new intel points to a Galaxy S III LTE release yesterday. Early yesterday we were advised that the Galaxy S III LTE would be available on June 5th, which is fortunately an outdated piece of information. According to this newly obtained image, T-Mobile has launched the Galaxy S III LTE in T-Mobile retail/branded locations.
"On May 20, T-Mobile will update its supply of the Samsung Galaxy S III in Retail/Branded locations with a new version that supports LTE. The Galaxy S III (LTE) will also be available for upgrade purchase in Retail, Care, Web, and B2B. On June 5, the remaining channels will launch the Galaxy S III (LTE)."
As for the Samsung Galaxy Exhibit, that remains ready for release on May 29th. The mid-range device features Android 4.1 Jelly Bean, 1GHz dual-core processor with "4G" speeds which likely means no LTE. Also included on board is a 5 megapixel camera and a preloaded media hub app straight from Samsung.
The Galaxy S III LTE will replace the current supply of the Galaxy S III in all T-Mobile company channels.