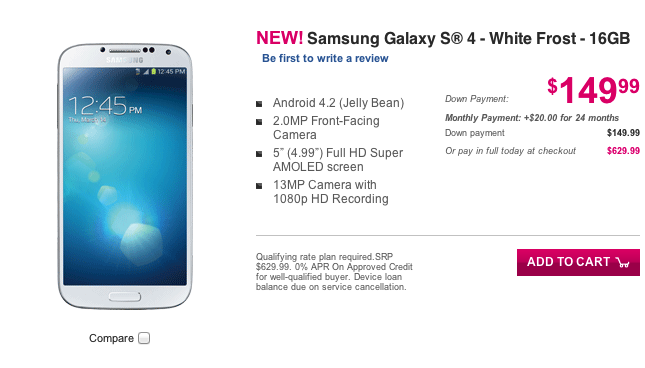 With the in-store date pushed back all the way to May 8th for "select" stores and May 15th for all stores, online is the best way to get the Galaxy S 4 in your hands as fast as possible. That's why it's important that you act quickly as the Galaxy S 4 is now available through T-Mobile.com. Quantities are expected to be limited so don't hesitate. Hit the link below and have your credit card handy!
Recapping:
Beginning April 29th, the Galaxy S 4 will be available online.
Beginning May 8th, the Galaxy S 4 will be available at "select" company-owned retail stores, select T-Mobile authorized dealers and national retail stores.
May 15th will see the expansion of the Galaxy S 4 to all T-Mobile company-owned stores nationwide.
On T-Mobile's Simple Choice plan, the Galaxy S 4 will be available for $149 down with 24 monthly payments of $20.