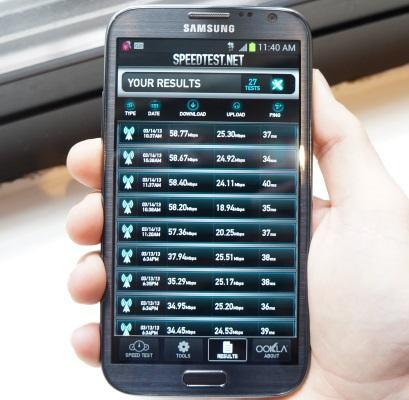 Update: T-Mobile's support page for the Samsung Galaxy Note II now includes the latest update. 
T-Mobile's LTE network is beginning to show some signs of life as a number of sites just posted some hands-on results conducted in New York City last week. That means some good news for Galaxy Note II owners as the long-awaited LTE software update finally rolls out beginning today.
The tests, conducted by The Verge, Engadget, LaptopMag and CNET, we're getting a first look at what the network is truly capable of. There's a caveat of course, that all of these tests are running on microcells with absolutely no traffic on it so real-world speeds will be theoretically be slower with thousands of customers on a tower at any given time. As was case with the HSPA+ rollout, the use of new tower equipment along the necessary LTE hardware should result in better coverage for everyone says T-Mobile Product Management Director Randy Meyerson. That's good news for customers who may choose to ignore T-Mobile's first round of LTE handsets as improved coverage is always welcome.
As for those of you looking for the BlackBerry Z10, T-Mobile's first LTE-ready BlackBerry, that's still on the calendar before the end of March. The carrier says LTE is ready in both Las Vegas and Kansas City and all that's left is flipping the switch allowing customers officially on the network. With the promise of a network that covers 200 million people with LTE before the end of 2013, T-Mobile's rollout is bound to ramp up quickly.
As for the speeds themselves, LaptopMag was able to hit download speeds as high as 58.8Mbps, with uploads running as high as 25.5Mbps. Engadget faired a little better pushing above the 60Mbps mark hitting a high of 62.13Mbps and a download high of 25.67Mbps. Overall, speeds appeared to average well into the high 50's on the download and in the high trends on the upload side. Remember the earlier caveat though. a
One major advantage for T-Mobile's LTE network and a selling point the company will certainly use when it rolls out its rumored "Dual 4G" marketing later this year is HSPA+ 42Mbps as a fallback. The ability to fall back on speeds that T-Mobile has long claimed rival competitor LTE networks is an advantage T-Mobile will attempt to use against the likes of Verizon.
For now, T-Mobile highlights that its LTE network will be focused on measured adoption, with an emphasis on higher-end handsets focusing on the technically savvy, media heavy-set of customers. As for how long it will take before T-Mobile has their LTE network rolled out to more than two cities? That's a great question that T-Mobile is playing coy with answering. With plans to have 100 million customers cover in LTE before summer, we're certain we'll find more cities lighting up in the near future.
The Verge, Engadget, LaptopMag, CNET