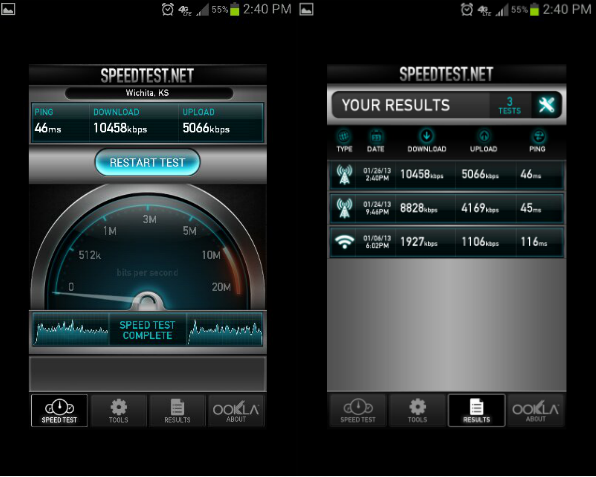 T-Mobile's first LTE markets of Kansas City and Las Vegas are set to go live within a matter of weeks, and now at least one XDA Developer user is seeing signs of life. The very first LTE speed test we've seen for T-Mobile's LTE network, at least of the public variety shows around 10Mbps downlink and 5Mbps uplink. The speed test itself was taken in the Kansas City, Kansas area with a Wichita server under a 5x5MHz configuration.
As this rollout is slowly coming to life, we expect that T-Mobile will focus on speed after they work out spectral efficiency and make sure coverage is continuous. Until then, don't let the first speed test results concern you, T-Mobile's LTE network is a sleeping giant with Release 10 on the horizon.
Also of note is that this cell site is likely a test area and not really a good barometer for how fast T-Mobile's LTE network will be overall. Considering T-Mobile's emphasis on speed with their HSPA+ 42Mbps markets, we have no doubt they will have their LTE blazing fast in short order. For now, just enjoy the knowledge that the first LTE launches are on the horizon and check out the XDA thread for more detail.