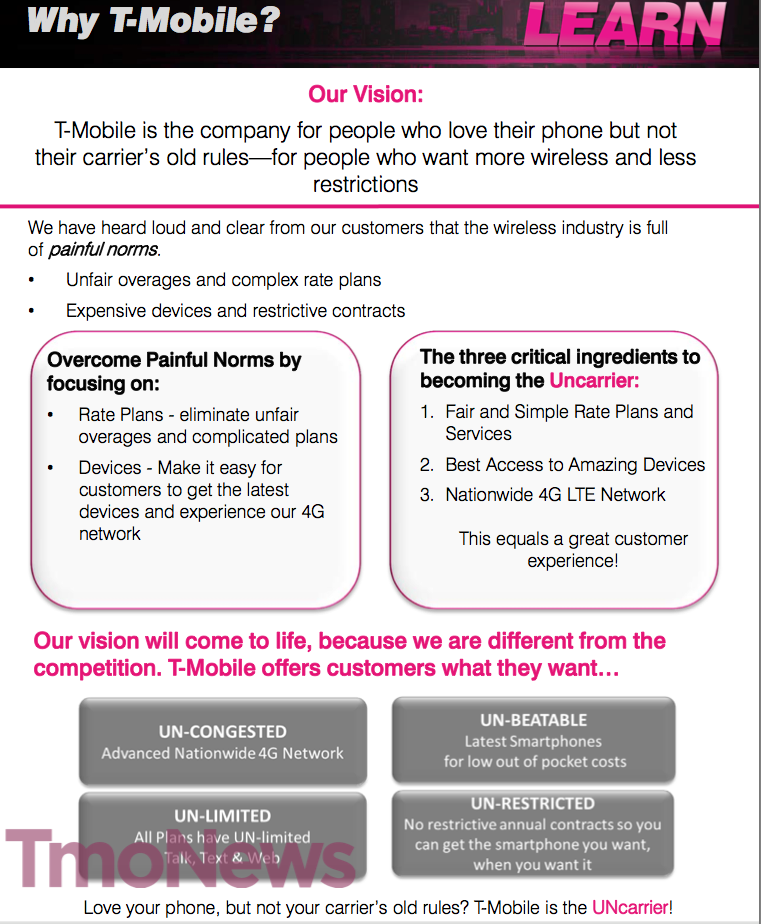 Update: To try to bulk answer questions so many of you are wondering — unfortunately, I have no idea how this will affect existing customers. It's impossible to know that from these images, but I would imagine standard industry practice would follow and your existing plan would be grandfathered. T-Mobile isn't going to force anyone to change to this plan on the 24th, but they may ask you to do so with your next upgrade. That's a pattern AT&T has followed for some time, but again, that's just a guess on my part. As for the EIP25, I'm being told it's actually 25 months of payments and not a new $25 tier. We're still waiting to confirm more info, but keep in mind everything I know about this new program is on these sheets. If you don't see an answer to your question here, assume we have to wait to find out. 
On the heels of our latest report comes a complete breakdown of T-Mobile's new UNcarrier approach, set to be formally announced later today. It appears that our report from last Friday has panned out completely and T-Mobile will in fact cut contracts for Value Plan postpaid customers. Along with Value Plan contract customers, Mobile Broadband Customers will also find a no annual contract solution awaiting their next purchase. "No annual contract mobile broadband (MBB) is another way that T-Mobile is putting customers first and providing great customer service. T-Mobile is the only national carrier to offer all the benefits of MBB service, without requiring a restrictive contract."
That's not all as T-Mobile is introducing a whole new rate plan with Unlimited Talk, Text and 500MB of web included automatically. But wait, you want more data? Well, T-Mobile can help with that. For each line, you can add 2GB of data for $10 per 2GB of data each month OR you can add the $20 unlimited data plan to each line. You got that right, that's one rate plan for the entire company, no more choosing between Value and Classic plans, it's one rate — all the time.
So let's break that down:
A single line will cost $50 for unlimited talk, text and 500MB of web included automatically. To add unlimited data would be an additional $20 per month totaling $70. What if you don't want unlimited data you ask? Each month you can use as much data as you see fit and T-Mobile will bill you $10 for each 2GB of data consumed. No need to call in and ask for a certain bucket, just use the data and receive a bill. You can go up to 12GB of data per line on every postpaid account, which is perfect for the time you travel and consume more data than usual. There is no mention of caps or overages, which begs the question for how T-Mobile will handle the pay per 2GB rate plan once you hit the 12GB cap.
So how about family plans? Well, the same deal applies. Two lines will cost $80 which allows for unlimited talk, text and 500MB of web data included. Each added line will cost $10 per month and will also include 500MB of data along with unlimited talk and text. The same data rates then apply for each line: $10 per additional 2GB per line and $20 for unlimited data per line.
*Postpaid Unlimited data feature can add one of these SMHS add-ons; (capped once allotment reached); 500MB $0, 2.5GB $10 and 4.5GB $20.
Every rate plan with unlimited data includes Smartphone Mobile HotSpot, with postpaid offering lower out-of-pocket costs using the equipment installment plan. No more overages, no more surprise bills, no more activations fees and one single rate plan for the carrier. As for Mobile BroadBand, with a voice plan it's $10 and for standalone pricing it's $20 per month. Each MBB plan includes 500MB of data, with each additional 2GB of data costing an additional $10 up to 12 total GB. So, a standalone customer using T-Mobile's MBB plan with 6GB of data will pay $20 + $30 ($10 per 2GB) for a total of $50.
As for that equipment installment tier we mentioned last Friday, T-Mobile will introduce a new $25 EIP tier which is likely geared toward the future launches of the Galaxy S IV, iPhone and HTC One.
So there you have it, one rate plan, less confusion, no activation fees, mobile hotspot included, T-Mobile – the uncarrier. Current intel has us looking at a March 24th date for all of these changes becoming the law of T-Mobile land. Stay tuned.