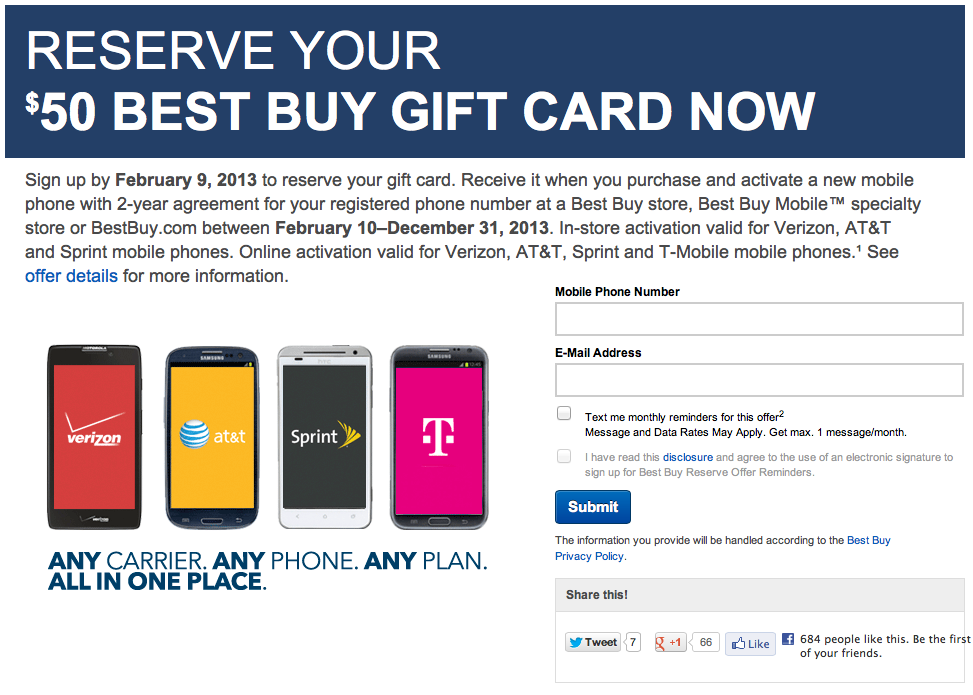 Best Buy has been known to run a fabulous deal on T-Mobile smartphones now and then, which is why you should take advantage of this new promotion. Through February 9th, signing up via Best Buy's website will award you a $50 Best Buy gift card with the purchase and activation of a new mobile phone on a two-year agreement. Unfortunately, Best Buy retail locations don't sell T-Mobile so the company will allow you to purchase online through BestBuy.com. It's really very simple, just add your mobile phone number and email address and voila, you are registered.
The offer doesn't specify brand new activations only, so we're betting that qualifying upgrades will work just fine with this offer as well. There's no commitment, and if you don't take advantage of the offer before the end of the year, it simply goes away. Sound good? Register at the Best Buy link below:
Sign up by February 9, 2013, to reserve your gift card. Receive it when you purchase and activate a new mobile phone with 2-year agreement for your registered phone number at a Best Buy store, Best Buy Mobile™ specialty store or BestBuy.com between February 10–December 31, 2013. In-store activation valid for Verizon, AT&T and Sprint mobile phones. Online activation valid for Verizon, AT&T, Sprint and T-Mobile mobile phones.¹ See offer details for more information.