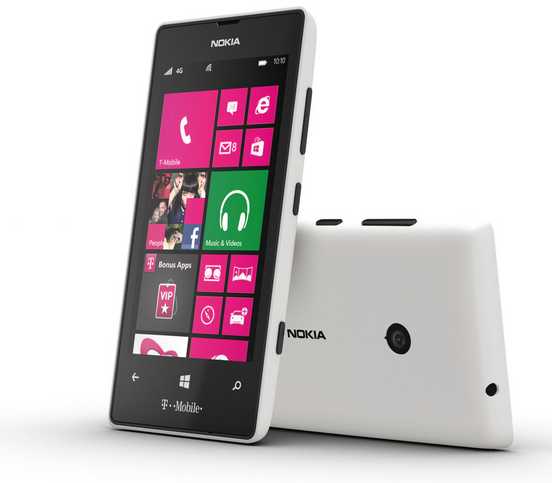 Nokia's press event at Mobile World Congress was all about the budget-friendly crowd which makes the introduction of the Lumia 521 on T-Mobile perfect for the first-time smartphone buyer. Nokia may have referred to the Lumia 520 design as "pillowy," but with exchangeable cases in yellow, cyan, white and red there's some opportunity for customization.
The Lumia 521 brings a 4" 800 x 480 display to the table, 512RAM, 8GB storage with a microSD slot, 5 megapixel camera with 720p video recording, 9.9mm thick and HSPA+ 21Mbps connectivity. Early hands-on show the Lumia 521 is "solidly" built, if a little cheaper feeling than higher-end Lumia handsets, but comfortable to hold.
Nokia seems perfectly content with their new lineup introduced Mobile World Congress hitting the budget friendly crowd as CEO Stephen Elop expressed his desire to hit lower price points to broaden the company's appeal.
"Yes, we do have to continue to broaden the Lumia," Nokia CEO Stephen Elop said on Monday. "There's definitely an opportunity to push to even lower price points."
Elop did recognize that Nokia's attempt to broaden the Windows Phone appeal has hit some speed bumps, but he remains confident the introduction of lower priced handsets will introduce a whole new audience to the OS. "I think it has been very hard," he said. "The amount of effort to break through in retail has been harder than anyone estimated."
According to an early February roadmap, T-Mobile plans on launching the "Nokia Flame (4G)" on April 24th and we're betting the Lumia 521 is that device.
Nokia Press Release:
The Nokia Lumia 520 is Nokia's most affordable Windows Phone 8 smartphone, delivering experiences normally only found in high-end smartphones, such as the same digital camera lenses found on the flagship Nokia Lumia 920, Nokia Music for free music out of the box and even offline, and the HERE location suite. A four-inch super sensitive touchscreen makes for a more responsive and immersive content experience than can usually be found at this price.

The Nokia Lumia 520 comes in five colors, with an estimated starting price of EUR 139, before taxes and subsidies. Roll-out is planned to begin in Q1 2013 in Hong Kong and Vietnam, before expanding broadly in Q2 to markets in Europe, Asia – including China and India – Latin America and Africa. The Nokia Lumia 520 is also planned to roll out in the United States with T-Mobile.