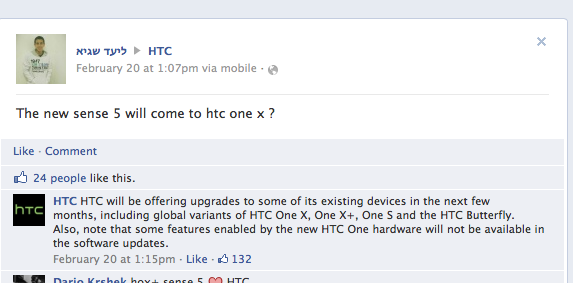 While HTC One S customers on T-Mobile wait, and wait, and wait a little more for their Jelly Bean update to arrive, HTC is already talking up Sense 5 upgrades. In response to a question on Facebook asking whether Sense 5 would come to the HTC One X, HTC answered:
HTC will be offering upgrades to some of its existing devices in the next few months, including global variants of HTC One X, One X+, One S and the HTC Butterfly. Also, note that some features enabled by the new HTC One hardware will not be available in the software updates.
In my opinion, there are two ways of interpreting this, the first being that "global variants" doesn't apply to carrier specific variants of the One X or One S. The second interpretation is that global variants would apply to all One X and One S models floating around the world, regardless of carrier specific features. Our guess is that the latter applies, but it would still be up to the carrier to push the update. Given T-Mobile's feet-dragging with Jelly Bean, One S customers can expect Sense 5 sometime in 2018.
Setting aside the HTC One S for a moment, Sense 5 will arrive on T-Mobile with the release of the One sometime in the next month. Sense 5 introduces a number of new features including the new Blink Feed home screen, Zoe Camera and the removal of widgets from the home screen. It's a different experience for those of you who have spent a lot of time with Sense 4, but most of the changes are refreshing.
Will the HTC One S receive at least some of the Sense 5 feature set on T-Mobile in the future? We can't say for sure, but at this point we'd just be happy with Jelly Bean.