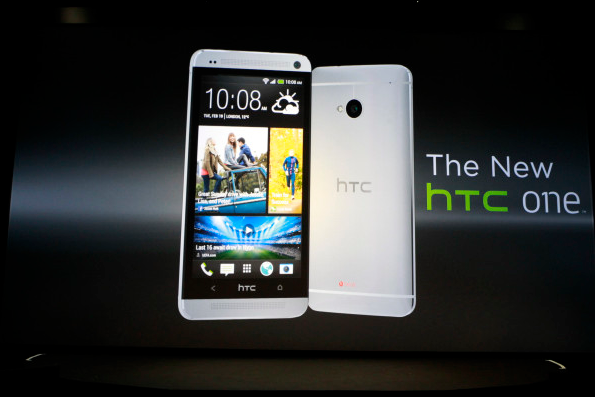 Welcome back HTC with the introduction of the HTC One this morning at their morning launch event still taking place as I write. HTC's One smartphone will take on their competition as the company's newest flagship device with a spec sheet to match. Except HTC is trying something different this time around as its not hyping specs as much as it's talking up features, especially their new "ultrapixel" camera.
HTC's going "all-in" with camera capabilities revolving around a custom-developed imaging sensor that takes in more than 3x more light than a conventional 8 megapixel camera. HTC calls it the "ultrapixel" and claims it's a major leap forward in low-light capability. The HTC One also includes OIS, or optical image stabilization ala the Nokia Lumia 920 along with HDR video, an expanded photo editing suite, and a new photo option called Zoe. "Zoe" gives you the five frames before pressing the shutter and another 15 after the shutter offering up 20 photos to choose from. Hello GIF photos.
The new HTC One is T-Mobile's first Android smartphone featuring the new HTC Sense experience with HTC BlinkFeed at its center.  HTC BlinkFeed transforms the home screen into a single live stream of personally relevant information such as social updates, news and photos giving people fresh content at a glance without the need to switch between applications.
The HTC One will be available in a choice of silver and black starting in the second half of March as HTC throws a global release party with more than 185 carriers on board, including AT&T, T-Mobile and Sprint inside the US. HTC also says the One will arrive "LTE-ready" for carriers whose LTE networks are not yet live. Happy happy joy joy.
Sense 5
Android 4.1.2
4.7″ 1080p Super LCD 3 display
468dpi
Gorilla Glass 2
Machined aluminum unibody
1.7GHz quad-core Snapdragon 600 processor
2GB RAM
2.1 megapixel front-facing camera
2300mAh battery
Developing…
Press Release:
INTRODUCING THE NEW HTC ONE®, A NEW PERSPECTIVE ON SMARTPHONES

HTC BlinkFeedTM, HTC ZoeTM and HTC BoomSoundTM Deliver HTC One's Unprecedented New Smartphone Experience

London and New York City, February 19, 2013 — HTC, a global leader in mobile innovation and design, today announced its new flagship smartphone, the new HTC One. Crafted with a distinct zero-gap aluminium unibody, the new HTC One introduces HTC BlinkFeed, HTC Zoe and HTC BoomSound, key new HTC Sense® innovations that reinvent the mobile experience and set a new standard for smartphones.

"People today immerse themselves in a constant stream of updates, news and information. Although smartphones are one of the main ways we stay in touch with the people and information we care about, conventional designs have failed to keep pace with how people are actually using them," said Peter Chou, CEO of HTC Corporation. "A new, exciting approach to the smartphone is needed and with the new HTC One, we have re-imagined the mobile experience from the ground up to reflect this new reality."

HTC BlinkFeed: A personal live stream right on the home screen At the centre of thenew HTC One experience is HTC BlinkFeed. HTC BlinkFeed is a bold new experience that transforms the home screen into a single live stream of personally relevant information such as social updates, entertainment and lifestyle updates, news and photos with immersive images so that people no longer need to go to separate applications to find out what's happening. HTC BlinkFeed aggregates the freshest content from the most relevant and interesting sources, giving it to people at a glance, all in one place, without the need to jump between multiple applications and web sites.

To enable this new dynamic approach to the smartphone, HTC will provide both local and global content from more than 1,400 media sources with more than 10,000 articles per day from some of the most innovative media companies, such as the AOL family of media properties, ESPN, MTV, Vice Media, CoolHunting, Reuters and many others. For more information on HTC BlinkFeed's content partners, visit the HTC Blog.HTC UltraPixel Camera with HTC Zoe The breakthrough HTC UltraPixel Camera redefines how people capture, relive and share their most precious moments. HTC Zoe gives people the ability to shoot high-res photos that come to life in three-second snippets. These Zoes, photos and videos are then displayed in a unique way that brings the gallery to life and transforms the traditional photo gallery of still images into a motion gallery of memories. It also automatically creates integrated highlight films from each event comprised of Zoes, photos and videos set to music with professionally designed cuts, transitions and effects. These highlight videos can be remixed or set to different themes, and can be easily shared on social networks, email and other services.

To enable this innovative camera experience, HTC developed a custom camera that includes a best-in-class f/2.0 aperture lens and a breakthrough sensor with UltraPixels that gather 300 percent more light than traditional smartphone camera sensors. This new approach also delivers astounding low-light performance and a variety of other improvements to photos and videos. In addition, the perfect self-portrait or video is just a tap away with an ultra-wide angle front-facing camera which supports 1080p video capture. Multi-axis optical image stabilisation for both the front and rear cameras also helps ensure video footage smoother whether stationary or on the move. HTC UltraPixel camera adds many other features and effects such as enhanced 360? panorama, time sequencing and object removal.

HTC BoomSound The new HTC One offers the best audio experience of any mobile phone available today. HTC BoomSound introduces for the first time on a phone, front-facing stereo speakers with a dedicated amplifier and an amazing full HD display that immerses people in music, videos, games and the YouTubeTM clips they love. BeatsTM Audio integration is enabled across the entire experience for rich, authentic sound whether you're listening to your favorite music, watching a YouTube video or playing a game.

HDR recording uses advanced dual microphones and audio processing to capture clean, rich sound that is worthy of high-definition video footage. Phone calls sound great on HTC One thanks to the addition of HTC Sense VoiceTM, which boosts the call volume and quality in noisy environments so that conversations come through loud and clear.

HTC Sense TVTM HTC Sense TV transforms the new HTC One into an interactive program guide and remote control for most TVs, set-top boxes and receivers. Tapping the power of the cloud, Sense TV makes it simple and intuitive to see what's on and find that favourite show.

Metal Unibody Design

Wrapped in a zero-gap aluminium unibody and sporting a brilliant 4.7", Full HD (1080p) screen, the new HTC One features the latest Android Jelly Bean operating system and LTE network technology to offer blazingly-fast browsing in a package that combines premium design with breakthrough build quality.

Available in stunning silver and beautiful black, the sleek and crafted aluminium unibody sits comfortably in the hand and showcases HTC's unique antenna technology, which helps people achieve a crystal clear signal. The display also resists scratches and reduces glare, whilst offering incredible 468ppi resolution and rich, natural colours.

Global Availability The new HTC One will be available globally through more than 185 mobile operators and major retailers in more than 80 regions and countries beginning in March. For more information and to pre-register for the new HTC One, visithttp://www.htc.com.