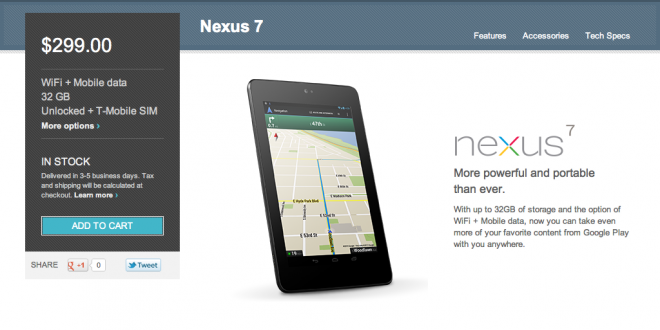 T-Mobile's quest to Nexus-ify their Android lineup continues today with the opportunity to purchase the Nexus 7 through Google's Play Store with a T-Mobile SIM. Available for $299, the Nexus 7 with T-Mobile SIM and HSPA+ 21Mbps connectivity is available with 32GB of internal storage. Devices are expected to be delivered within 3-5 business days, which will make you the envy of all your Nexus 4 friends still trying desperately to get their hands on one.
Starting today, 1/16, the Nexus 7 will be available with T-Mobile's 4G service at Google Play. To purchase the device with a T-Mobile SIM card, visit Google's Play Store.
As for the Nexus 4, T-Mobile has confirmed the Nexus 4 will be available in all T-Mobile retail stores nationwide in the coming weeks. The sought-after device is also expected to be back in stock online through T-Mobile.com beginning on January 23rd.