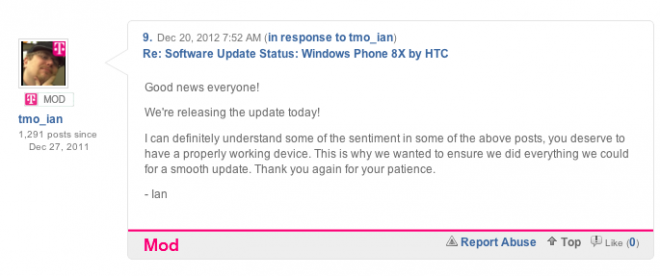 With T-Mobile's Support forum moderator announcing the Windows Phone 8X update would be pushed back to "tweak," we had high hopes the delay wouldn't last long. As it turns out, the delay lasted right around 24 hours as the same forum moderator announced the update as live around 1pm eastern time this afternoon. While it's still too early to tell if the update has had any discernible impact on reboots or other troubleshooting issues related to the Windows Phone 8X, any fears we had about a delayed update lasting days or weeks has been put to rest.
"Good news everyone!  We're releasing the update today!

I can definitely understand some of the sentiment in some of the above posts, you deserve to have a properly working device. This is why we wanted to ensure we did everything we could for a smooth update. Thank you again for your patience."
I've already installed the update on my review Windows Phone 8X and will continue reviewing the device throughout the weekend and with my final review getting posted very soon. For the sake of fairness, I'd like to see if the review does impact or should I say lessen the number of reboots 8X users have endured. Personally, I've only seen a handful throughout the 3 weeks I've had the device, but for some 8X owners they are much more frequent.
Happy updating.