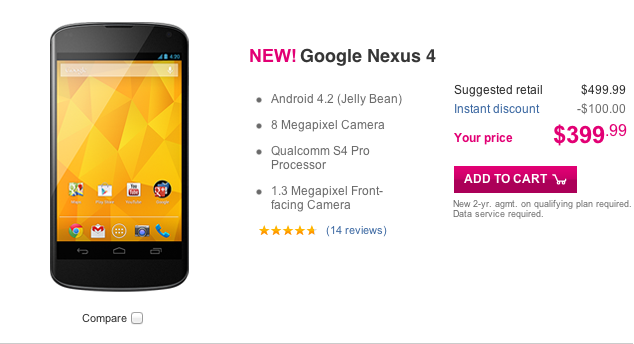 Update: The correct pricing is shown when you try and upgrade ($199), it's all but obvious this is a typo and I was probably mistaken for thinking this could be anything else. Don't tell that to the Spanish or Italians though. T-Mobile has confirmed the pricing as a typo and states it will be corrected on the website shortly. 
No, your eyes are not deceiving you as the Nexus 4 returns to T-Mobile.com for $399, subsidized. Say what? Honestly, if I were a betting man I'd put good money on this just being an accidental typo. In the case of the Nexus 4, we've seen a history of typos so there's some precedence to believe T-Mobile's website needs some better proofing. I cannot envision a scenario where T-Mobile decided to kick up the subsidized price up $200 basically overnight. Never mind that the Nexus 4 sells for $50 less, subsidy free from the Google Play Store.
Odds are this is just a typo, and if it isn't, T-Mobile has some serious explaining to do to justify such a significant price increase on a phone that is available for less elsewhere sans contract.