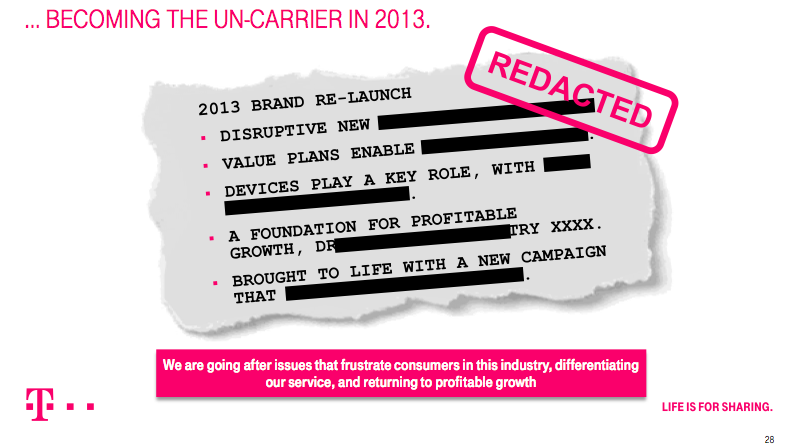 T-Mobile's CEO may have confirmed Apple products were coming to T-Mobile next year, but he never hinted at exactly what products T-Mobile would carry, or did he? During the Investor conference which saw the announcement, T-Mobile CEO John Legere hinted that T-Mobile could heavily finance "the most iconic device in the world" by selling it on a Value Plan offsetting some of the upfront costs. It's clear that the full-on introduction of a Value Plan only environment will be a shift in how customers have bought devices, so T-Mobile is absolutely correct when they say they plan on doing somethings different. Needless to say, whether or not you love or hate the iPhone, it's easily one of the more recognizable devices in the market.
"You may pay $99 for the most iconic device in the world, and then you may get 20 months worth of, call it $15-20 a month [on the device installment plan]. It's very cheap out of pocket, very low. And at any point if you want to come back and trade in that phone, we will give you residual value, let you trade in that phone and stay on the contract service you have."
While a lot of you have already sounded concerns over the financial impact from carrying the iPhone will affect T-Mobile, the notion that iPhones will be sold on Value Plans will help offset a lot of the costs. Concerns over a Sprint-style deal that won't allow them to see a profit for years isn't likely as any deal won't likely be structured under the same guise as Sprint. The Value Plan only option makes sense for T-Mobile when they say that 4 out of 5 customers are choosing Value Plans. It makes more sense when you consider that between 12-15 percent of customers are bringing their own devices and servicing around 1.7 million unlocked iPhones on the network now.
The result may be that T-Mobile can turn a profit on iPhones by the end of the first year of sale thanks to Value Plans not forcing the company into up-front subsidies.
"We worked very, very hard for a deal that made sense to us … the deal is accretive to cash flow and EBITDA in 2014," he said. "This is not a volume commitment the size of what Sprint agreed to or anything close to it."
So, when T-Mobile's CEO says his company's way of selling the iPhone will be "dramatically different," Value Plans are likely what he is referring to. As the deal doesn't have any of the volume requirements Sprint has, investor concerns should be minimized.
RBC analyst Amit Daryanani is already predicting that T-Mobile will sell between 4 and 5 million iPhones in the first 12 months. That number is roughly compared to the 6.3 million iPhones Sprint sold in its first 12 months given the scope and size of each company's customer base.
Turning attention to marketing the iPhone, T-Mobile says they plan on launching a "fun" campaign surrounding the iPhone and expect plenty of digs at AT&T. Legere says Sprint isn't his primary target, but AT&T.
"We're going to target Sprint. No, that's not right. Sprint is too easy to target from a network standpoint. We're going to target AT&T."
Expect the company to launch a marketing campaign that sounds something like: "You love your iPhone, you hate @ATT." Which is great, T-Mobile should grab hold of their underdog status and nip at the heels of the other three carriers, primarily AT&T. Given the ease with which customers can shift devices from AT&T to T-Mobile, it makes perfect sense that AT&T will be numero uno on the company's hit list.
I'll be thrilled, and I'm sure you will be to if T-Mobile can finally get aggressive now that they have a complete arsenal of smartphones. Life with Android has been great, but T-Mobile had a monstrous gap in their smartphone lineup that needed to be filled. Now that customers have a complete set of options, and if they can execute everything they laid out today, 2013 should be a very interesting year for Magenta.