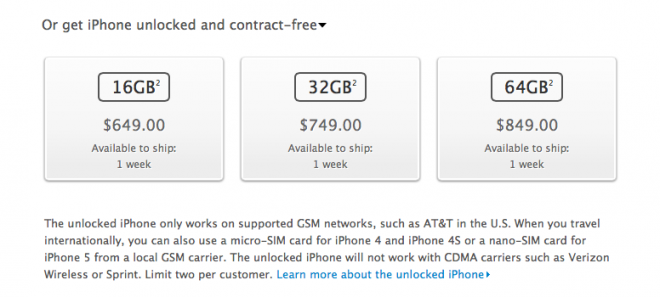 Just as the world expected, Apple has released unlocked iPhone 5 units available from its online store as of earlier this week. The unlocked device price range will fall in line with our anticipated price models beginning at $649, $749, and $849 for 16GB, 32GB and 64GB of storage, respectively. All three models are listed as shipping in one week.
There's no word from Apple as to when their retail stores will begin carrying unlocked models for sale, though early reports show inventory has already begun arriving The unlocked models are GSM only, which is great for AT&T and T-Mobile customers in the US, but not so much for those of you on the Sprint and Verizon networks. Unlocked iPhone 5 devices are excellent pickups for international travelers who will use the device on GSM-based networks worldwide needing only to SIM swap to get up and running. While most countries get unlocked units right from the start, the US always has to wait until sometime after the iPhone launches. We can all thank the carriers for that.
Given that T-Mobile has activated over 200,000 new iPhone devices in the last 60 days, it seems likely that the opportunity to grab unlocked iPhone's from Apple will lead to that number climbing higher. Throw in the continued efforts at network modernization and this could attract a few people to T-Mobile's network thanks to lower pricing and better value.