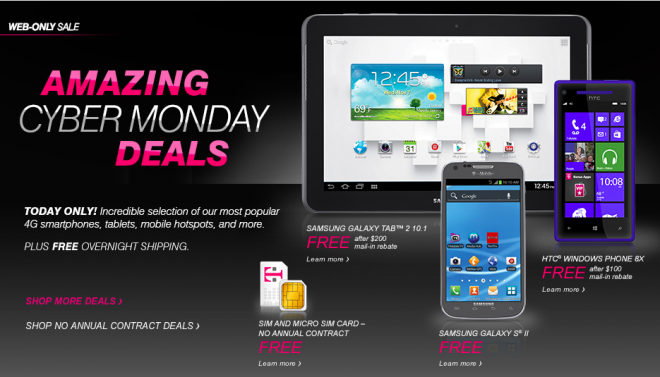 T-Mobile's Cyber Monday special's are now in full swing with special savings on new purchases. Savings include the Windows Phone 8X (free after $100 mail-in rebate), and the Lumia 810, Ceramic Black HTC One S, Galaxy S II (Steel Gray and White), all free with instant discounts. The Galaxy S III (both colors) will run $99 after a $100 mail-in rebate and the 32GB model offered for $149 after the same rebate card. The Galaxy Note II is being offered for $199.99 after a $100 mail-in rebate in both White and Gray colors.
As it appears online, the deal looks to be good for Classic Plan only customers beginning new service or adding a line to an existing plan. Pretty standard fare for these deals. The Cyber Monday sales require signing up with a Classic Talk+Text+Web plan or Classic Talk with web service of at least $20 a month. The rest is just a rebate form, fill it out and send it off.
See the full range of deals at the T-Mobile link below, all sales are good for today only.