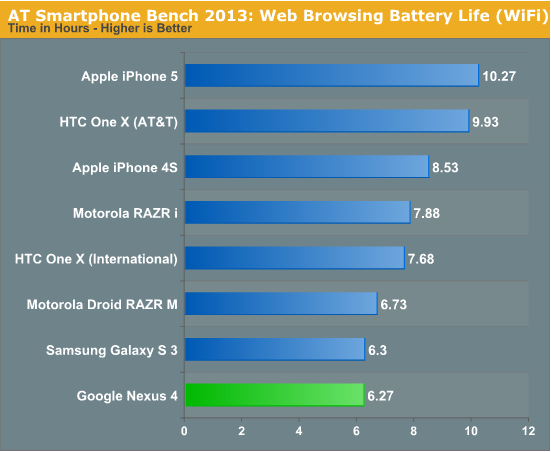 Google went on the record with The Verge last week and mentioned two reasons why LTE was left out of the Nexus 4: the first reason was building a carrier independent device couldn't be achieved with LTE and the second reason power draw. There's little argument that LTE does in fact use more power than HSPA+ or 3G, however LG did include LTE in the Optimus G design, which is the basis for the Nexus 4 smartphone. Our hope then is that the Nexus 4, running on HSPA+ networks around the world would exceed LTE devices in battery life tests, except that's not what these AnandTech results show.
If you're unfamiliar with the group of guys at AnandTech, they run arguably one of the best sites for digging deep into hardware and running benchmark tests that cover every inch of a new device. Their testing methods are pretty awesome and I'd happily say I trust their results implicitly. It's their findings with the Nexus 4 then that disappoints us as battery life appears to be not only worse than a number of smartphones sitting at the top of the Android market, most of them are LTE devices.
On straight 3G/4G LTE battery tests, the Nexus 4 tested at 4 hours and 18 minutes, against the iPhone 5 which ranked highest with 8 hours nine minutes. The Galaxy S III clocked in at 5 hours, HTC One X (AT&T) at just under 7 hours.
The WiFi tests didn't fare any better for the Nexus 4, though its battery life did improve to 6 hours and 27 minutes which was just a smidgen behind the Galaxy S III at 6 hours and 30 minutes. The iPhone 5 took top honors again clocking in at 10 hours and 27 minutes, with the HTC One X (AT&T) clocking in at just under 10 hours.
Needless, battery life on the Nexus 4 isn't awful, but it doesn't stand up as all that impressive when you break it down against other top devices in the market today. So, should battery life influence your decision to buy the Nexus 4? That's something only you can answer, but I would think that battery life is a mild tradeoff compared to the joy of owning the latest Nexus device and the guarantee that future Android updates will arrive first.
Of course your mileage may vary with battery life and at the very least, the battery life is better than its predecessor with the Galaxy Nexus. Some alternative reviews have claimed vastly different battery life results so its possible this is caused by pre-release software, but its something to keep in mind as we get closer to launch.