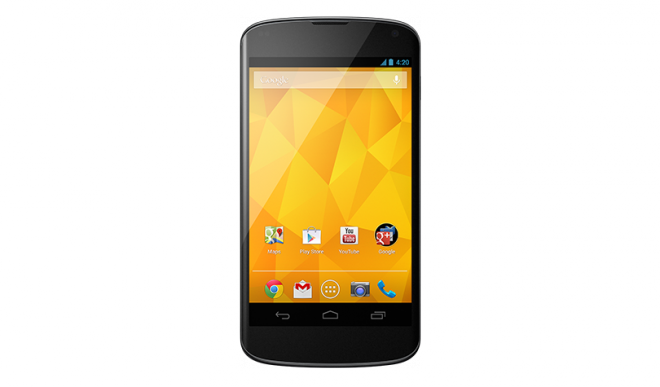 Update: According to Google's press release, the Play Store Nexus 4 does in fact have HSPA+ 42Mbps connectivity as well, it's the Play Store specs that are incorrect. 
In an effort to clear up some confusion, I've re-confirmed with T-Mobile that the Nexus 4 sold by T-Mobile will have HSPA+ 42Mbps connectivity on board. That's different from the Google Play store which indicates the Nexus 4 will have HSPA+ 21Mbps. There doesn't appear to be any other differences between the T-Mobile and Play Store models, other than the radio. Moreover, it's entirely possible that the Play Store specs are remnants of the Galaxy Nexus and will be updated to show the radio later on. Then again, that may be wishful thinking and the unlocked version may in fact only be 21Mbps.
To clear up one more question, the T-Mobile "edition" of the Nexus 4 is bone stock, no add-ons, bloatware or carrier branding. You can take a peek at the Fact Sheet below which indicates all the T-Mobile related material on the Nexus 4. In other words, there doesn't seem to be any differences between the T-Mobile Nexus 4 and the unlocked Nexus 4 purchased from the Play Store, other than the HSPA+ radio.
The Nexus 4 is the latest device in the Google Nexus lineup, and T-Mobile will be the premier U.S. launch partner. With cutting-edge hardware designed collaboratively by LG and Google, favorite Google Apps, and the latest version of Android, Nexus 4 puts the best of Google in the palm of a customer's hand. And, with access to T-Mobile's fastest 4G (HSPA+42) network, T-Mobile is again giving its customers the best choice of devices. Nexus 4 comes with a high-performance 8MP camera and takes stunning Photo Sphere images to capture every detail of the world. The all-new camera lets customers quickly view and edit photos with powerful new tools, and share favorite shots in a snap. When combined with T-Mobile's Value plans or T-Mobile's Unlimited Nationwide 4G Data plan, the Nexus 4 gives consumers a top-notch Android experience.