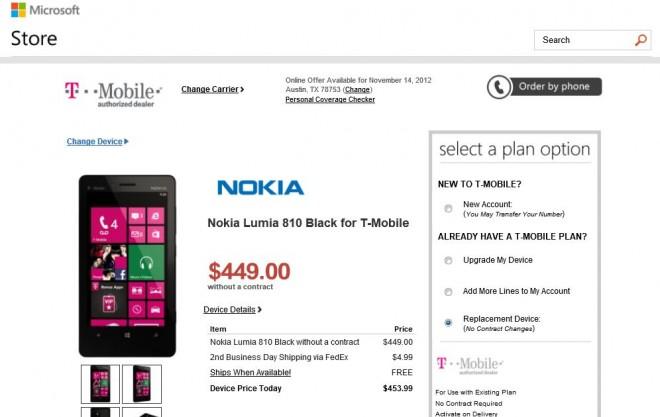 Looking to purchase a Nokia Lumia 810 off contract? The cheapest price right now appears to be directly through the Microsoft Store (both online and in-store). If you head on over to the Microsoft Store website and look at the Lumia 810 product page, you'll notice a price of $449 once you select the "Replacement Device" option (which will not extend your contract). You'll also be looking at a $4.99 two-day shipping fee if you order online.
If you're looking for deals on upgrades directly from Microsoft, however, you're not going to find anything too drastically different than if you were to upgrade directly through T-Mobile: The price for an upgrade on classic plans is a solid $149. The good news is that there is no $50 rebate needed in order to get that price. Still, we've seen better upgrade deals for classic plan holders elsewhere, so nothing groundbreaking here.
Going back to that in-store purchase at the Microsoft Store, it truly is a fairly painless process… aside from parting with your hard-earned money of course. Ask for the device you want, give your name and email address (they email a copy of your receipt alongside the physical copy you get), get offered the chance to purchase optional "Microsoft Assure" phone insurance ($99 for 2 years, covers defects, accidental damage including water damage, always replaced with a new phone never refurbished, etc), use your method of payment, and you're on your way. If you don't currently have a microsim, which you will need for the Lumia 810, you may need to stop by a T-Mobile store to get it activated. You can ask your local Microsoft Store if they do in-store sim-to-microsim swaps, but the employees in the Austin, TX store apparently don't know how or can't – they can do activations though.