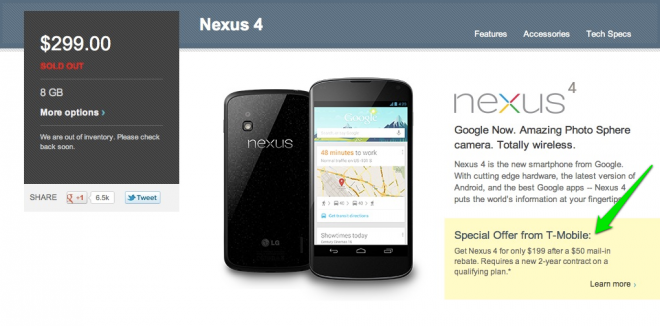 Judging by the sudden rise in my emails, it seems that a number of you have caught a change to the Play Store today, specifically the order pages for the Nexus 4. We're not sure exactly when this began, but as of this writing, Google's Play Store has an extra "Special Offer from T-Mobile" and lists the Nexus 4 on a two-year agreement for just $199.
It's peculiar that this same message shows up on the 8GB order page as well, considering T-Mobile only carries the 16GB model. The Play Store link takes you directly to T-Mobile's order page for the Nexus 4, which begs the question, why is Google directing traffic away from its own store? Setting that question aside for the moment, the T-Mobile link also lists an out-of-stock Nexus 4, so no matter which way you go about trying to purchase the device right now, you're going to come up short.
The lack of inventory for both parties definitely has us wondering why Google is directing traffic to T-Mobile, instead of fulfilling future orders through their own channels? It's a question we'd like an answer to, but likely won't get. Either way, we're hopeful that at either the Play Store or T-Mobile will have the Nexus 4 back in-stock soon.