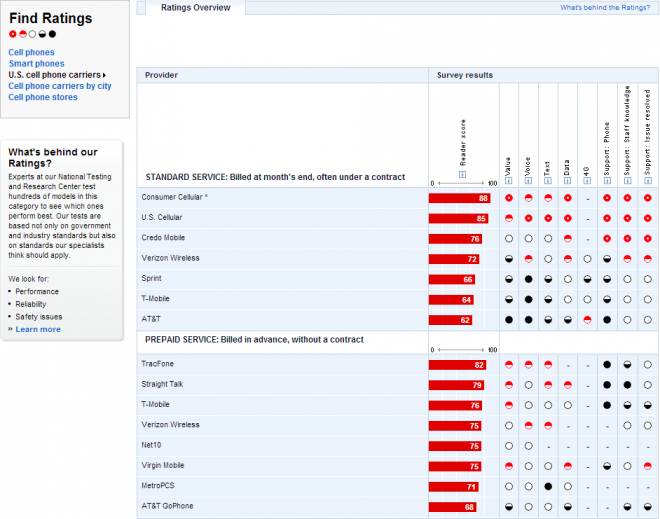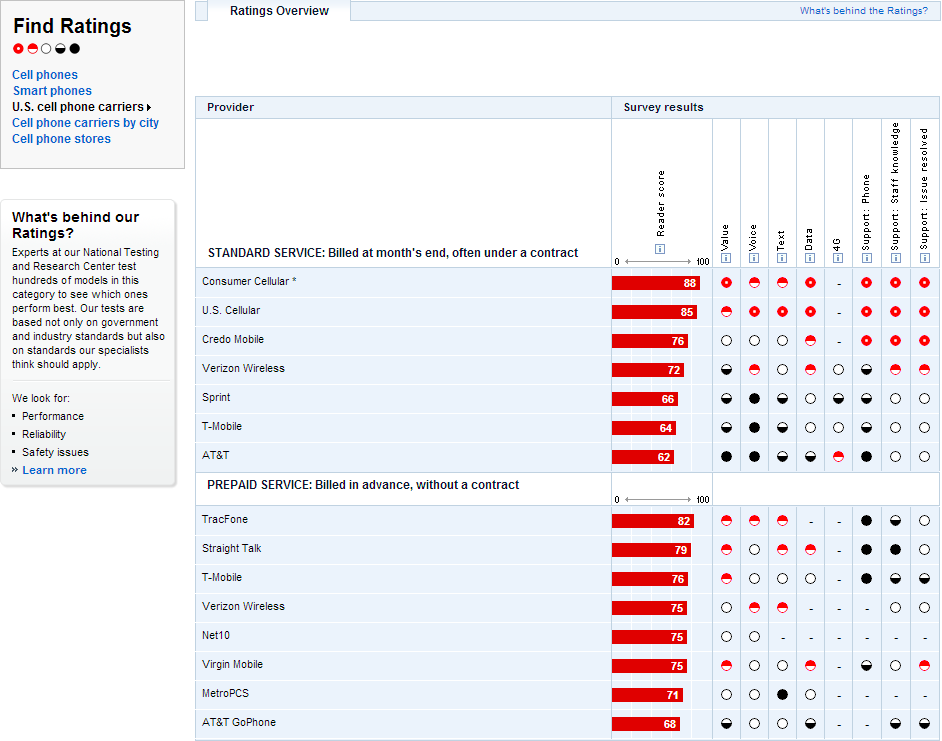 I wish I could start this post off by saying "what a difference a year makes." Unfortunately, a new Consumer Reports survey places T-Mobile behind Sprint and Verizon, right in line with how they performed 12 months ago. The survey, which determines scores based on voice and data service quality, staff knowledge, and issue resolution show that Verizon continues to hold down the top spot, followed by Sprint, T-Mobile and AT&T in last place.
Unfortunately, none of the other 3 national carriers scored particularly well where Verizon performed admirably but it was  regional carrier US Cellular that decimated all major players. AT&T ended up with the worst value and data service scores however, their LTE network was ranked the best and the least problematic. According to the Consumer Reports press release: "Sprint, T-Mobile, and AT&T each received mostly middling to low marks, particularly for voice and text service quality." 
Another interesting and totally unsurprising survey note is that respondents typically saved around $20 per month by switching to a prepaid plan. Which goes to the point about why T-Mobile places such emphasis on Monthly4G.
The report found that no-contract plans can be major cost-savers. Two-thirds of Consumer Reports survey respondents who switched to so-called "prepaid plans," which typically lack a contract commitment and bill each month in advance, saved more than $20 a month by switching to prepaid. Those savings can allow wireless customers to quickly recoup the cost of the phone itself, which can be higher if they don't make a contractual commitment.
All in all, the report doesn't show much improvement for anyone over the last 12 months, things are really very similar to the same report one year ago. We're hopeful that in the next 12 months, T-Mobile will at the very least pass sprint and grab that number 5 spot on this list. In order, the top ranked carriers are Consumer Cellular, U.S. Cellular, Credo Mobile, Verizon Wireless, Sprint, T-Mobile and AT&T. Come on Magenta, we can at least beat Sprint, right?