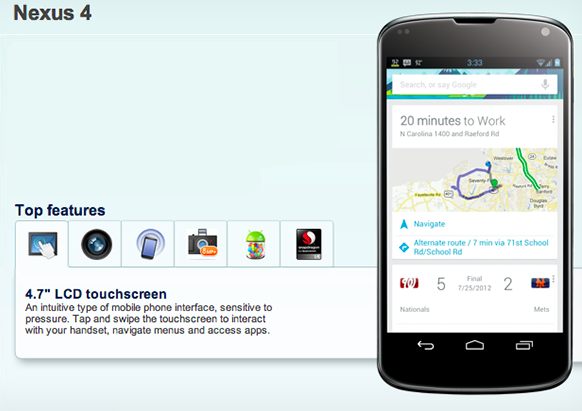 The Nexus 4, LG's anticipated first entry into the Nexus world has been outed yet again by UK phone retailer Carphone WareHouse. An official looking pre-order page is now live on the company's site, with the very same specs we've expected: 4.7″ 1280×768 display, Android 4.2, quad-core Snapdragon S4 processor, NFC and an 8 megapixel camera. The Carphone Warehouse spec sheet does list the device as being 9.1mm "thin" and offering 8GB of onboard internal storage.
On another similar Nexus 4 Carphone Warehouse note, another source has shown off an official looking internal inventory page that shows the LG Nexus showing up in both black and white.
Another potential feature added in Android 4.2 is "Gesture Typing," which is listed as: "Stay in touch with Gesture Typing, a faster way of typing that lets you spell words by dragging your finger across the screen from letter to letter." Is Google preparing to take on Swype?
Will it be available as a pentaband device and will it come to T-Mobile? We're hearing some completely unconfirmed whispers but let's hope we find the answers to those questions and more in just a few days.