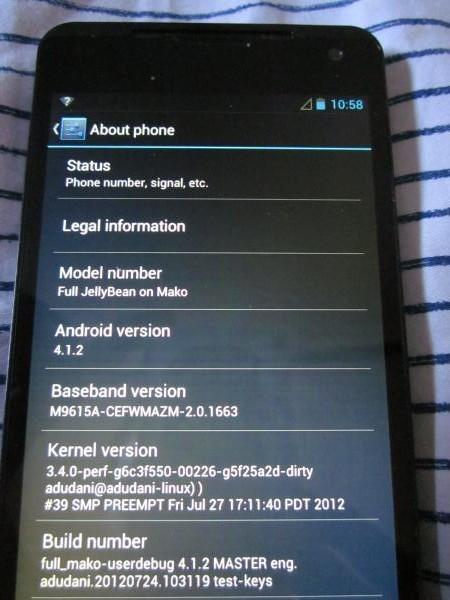 With plenty of recent rumors indicating that LG would produce the next-generation Nexus, or at least produce one of the next generation of Nexus devices, a new set of images making their way into the wild isn't coming as much of a surprise. An XDA-Developer forum member has provided us with our first look at the upcoming LG Nexus device. For now, it appears that all of the earlier rumors about an LG Optimus G look-alike appear to be dead on.
If you recall, the LG Optimus G sports a 4.7" 1280 x 768 HD display, 1.5GHz Qualcomm Snapdragon S4 Pro processor, and a 13 megapixel camera which is likely to be the same specs on the LG Nexus device. Specs aside, our real "evidence" lies with the "About" screen which reads "Fully JellyBean on Mako," which Nexus fans will recognize as a type of shark. In fact, all Google-designed Android smartphones have been named after fish, including the T-Mobile G1. Labels on the phone indicate a LG E960 model number, which has been noted as a possible Nexus smartphone having recently passed through the FCC.
So, we're obviously confident this is a brand new Android device from LG running Jelly Bean, but is it the new Nexus device? At this point it's hard to say anything is for certain, but all signs seem to be leading us to that conclusion.
Let's just say this is the next Nexus device, the only question we're left wondering — will it work on T-Mobile? Every previous Nexus smartphone has been designed to work on as many carriers as possible, I hope LG doesn't fail us.