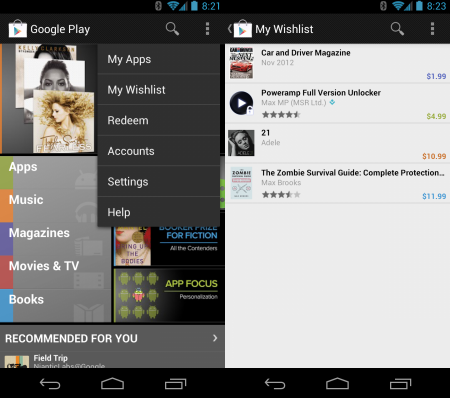 In the world outside of T-Mobile specific news, I thought the addition of Google's Play Store Wish List feature was worthy of a quick post considering how useful this feature can be. Available as of last night, wish lists are incredibly simple to use, just find something you want in Google Play, hit the bookmark button and voila, it adds to your wish list. For the moment, and this seems to be the only major drawback, there doesn't seem to be any sharing or emailing of your wish list, so you can hit up your parents or grandparents for some app funding. In my use, wish lists are great for tracking apps and check to see if the price has dropped.
The wish list feature isn't just limited to apps, it extends to music, magazines, movies, tv, books, or pretty much everything that's in the Play Store. Hopefully Google will allow us to share wish lists in the future with family and friends, and with the feature already there, there's no need to wait around for any new Play Store update.
Perhaps we'll hear more about this during Google's October 29th press event.