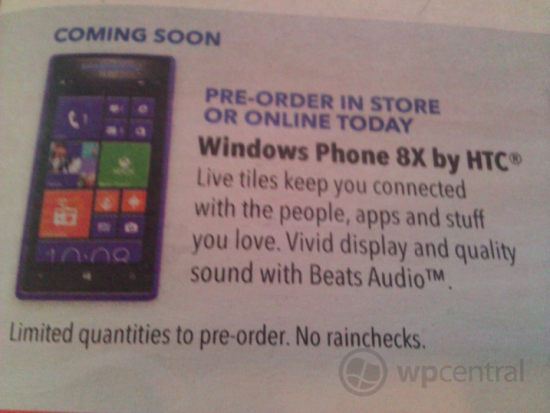 The boys from WPCentral got their hands on this image from an upcoming Best Buy store advertisement for the week of October 21st that shows the Windows Phone 8X as available for pre-order. There's no sign as to which carriers Best Buy will offer pre-orders for given the Windows Phone 8X will be carried by Verizon, AT&T and T-Mobile. The device in the image itself is AT&T branded, but given that Best Buy carries T-Mobile (online) and Verizon, it's possible it could be for all three carriers.
We'll have to see what happens this upcoming Sunday, but we'd be happy to get our pre-orders in early for HTC's flagship Windows Phone 8 device.
The Windows Phone 8X features a 4.3″ Super LCD2 Gorilla Glass 2 display at 720 resolution, 1.5GHz dual-core Snapdragon S4 processor, 1GB of RAM, 16GB internal storage, and an 8 megapixel camera.
Our most recent bit of intel shows the Windows Phone 8X launching on T-Mobile store shelves on November 14th, so any pre-order might not ship until around that timeframe.