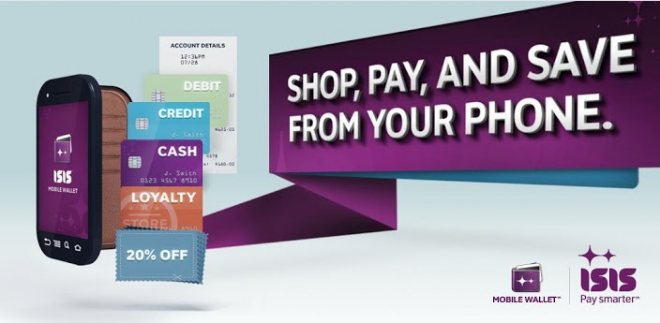 With yesterdays confirmation that T-Mobile was prepping to launch their ISIS Mobile Wallet trial in Salt Lake City, Utah and Austin, Texas on October 22nd, comes the release of the ISIS Mobile Wallet app for Android. The app itself requires that you have an ISIS ready SIM card which can be picked up at retail stores in the two test pilot locations beginning sometime next week.
Reminder: This app will not work on rooted devices.
The Isis Mobile Wallet … everything in your wallet … now on your phone.

By holding virtual versions of most things in your existing wallet or purse right on your phone, the Isis Mobile Wallet™ lets you:

• PAY WITH YOUR EXISTING CARDS – Store your existing, participating American Express, Chase or Capital One card right on your phone. Or use the free Isis Cash™ card that comes with every Wallet. Choose the card you want to use, tap your phone to the contactless payment terminal at checkout and you're on your way.

• SIMPLIFY YOUR LOYALTY CARDS – No more over-stuffed wallet or key chains. Conveniently store your loyalty cards from participating merchants in one place so you always have them with you.

• SAVE WITH OFFERS – Send offers and deals directly to your Isis Mobile Wallet – no coupons to clip, no emails to print, nothing to forget.

• CHECKOUT IN A SINGLE TAP – Seamlessly transmit your payment info, loyalty and offers at checkout with just one tap at Isis Ready™ SmartTap™ merchants. No more fumbling through your wallet or purse.

If you're wondering about the safety of the Isis Mobile Wallet, you needn't worry…in fact, it's safer than your existing wallet. To start with, the Wallet app is PIN protected. Further, you enjoy the same protection against fraud that you have today on your physical cards. Lastly, if your phone is lost or stolen, one quick call to T-Mobile freezes your Wallet.

SUPPORTED BY T-Mobile – Questions? Customer service is just a phone call away.

GETTING STARTED – The Isis Mobile Wallet uses near field communication (NFC) technology to transmit your payment card information to a merchant's contactless payment terminal. Please check with your mobile carrier for a full list of supported devices.