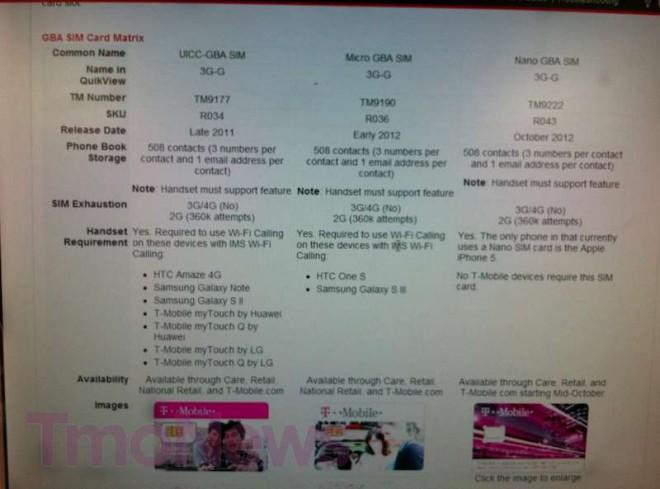 T-Mobile already  "announced" that they would begin receiving Nano SIMs in preparation for customers wishing to use an iPhone 5. Well, we've got a bit of double confirmation for you thanks to this this internal screenshot which highlights the different between the three types of SIM cards now in use or set to be used by T-Mobile customers. As you can see, the Nano SIM is exclusive to the iPhone 5 as no other T-Mobile phone uses it. For that matter, no other phone in the US uses a Nano SIM.
So with T-Mobile preparing to carry Nano SIMs in mid-October, what is it going to cost to get an unlocked iPhone 5 up and running on T-Mobile? Purchased straight from Apple the US unlocked iPhone 5 pricing is as follows:
iPhone 5 Unlocked U.S. Pricing: $649 (16GB), $749 (32GB), And $849 (64GB) and that's good both the white and black variants.
That's some steep pricing for sure, but that's the price you pay and yet, if you take a look around Negri Electronics or Expansys-USA, that pricing isn't far removed from what it costs to bring some of the top international handsets into the US. For example, an unlocked T-Mobile Galaxy S III 32GB will cost you $689.50 on NegriElectronics website. It all just depends on how badly you want to use your favorite phone on T-Mobile's network.