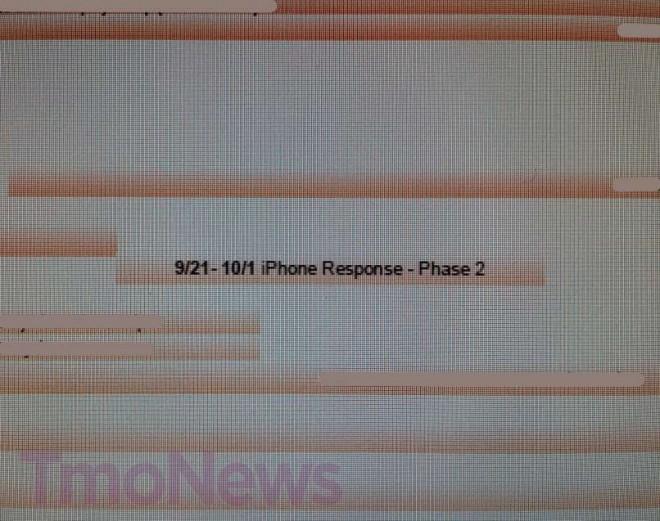 The unfortunate T-Mobile iPhone news continues to roll in and let us know that it remains unlikely T-Mobile will be unveiled as an official iPhone partner later this month when Apple announces it's next-generation iPhone. Along with preparing retail employees for "selling against the iPhone," we've just received the above image which shows that T-Mobile is preparing their "iPhone Response — Phase 2" for September 21st through October 1st.
Unfortunately, we have no idea what Phase 1 is or when or if it has already occurred, so our information on "Phase 2" is even more limited. More importantly, we're having a hard time believing anyone could see the joint evidence of T-Mobile preparing reps to sell against the product and preparing a "response" plan and still believe they will be announced as the last of the four national carriers to partner with Apple. Combine these two pieces of evidence along with T-Mobile's flyers showing the savings over AT&T by "bringing" your iPhone to T-Mobile and their rumored "all hands days" for September 21st and 24th and we know something is up, but we're pretty positive we know what it isn't.
It just seems like all the intel points away from a T-Mobile iPhone at this point, but if I may offer a "bold" suggestion for making many Android fans on T-Mobile happy? A price drop on the Galaxy S III in the near future, and a combined push of unlimited data. Arguably, a Samsung Galaxy S III price drop is long overdue for T-Mobile as they remain the only carrier to sell the device at a starting price other than $199.99.
Besides, the Galaxy S III seems like the most appropriate "response" to the iPhone these days as is, so a price drop could go a long way to making T-Mobile customers happy. That is, if you believe the picture below. If T-Mobile isn't going to sell the iPhone, than it would be a good idea to put their best foot forward with the best price possible.
For fun, and yes this is a mockup that's been making the rounds the past few days, definitely not an official document: