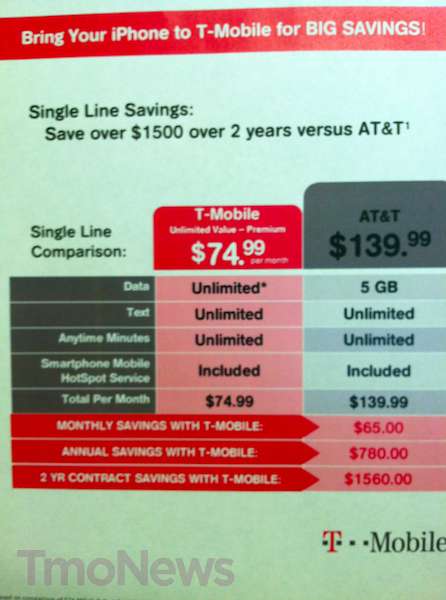 T-Mobile's efforts to bring unlocked iPhone customers into stores certainly seems to be heating up as we just got our hands on some flyers that may be apart of T-Mobile's marketing strategy. The flyers are pretty simple, showing the savings T-Mobile customers will discover when they leave pesky AT&T behind.
For those of you who don't think the iPhone on T-Mobile's network is a boost or will draw customers, a four-store pilot (which is where the flyers originate from) in an east-coast area tells us that's in fact, not the case. A trial-run undertaken during the course of July in four retail locations showed that gross adds increased 56% over the regular store baseline when a live iPhone running on T-Mobile's 3G network was demonstrated.
While the size of this trial run hardly amounts to a large sample size, it's certainly indicative that T-Mobile's move to refarm their network with a focus on bringing unlocked phones, including iPhones will might just pay some dividends.