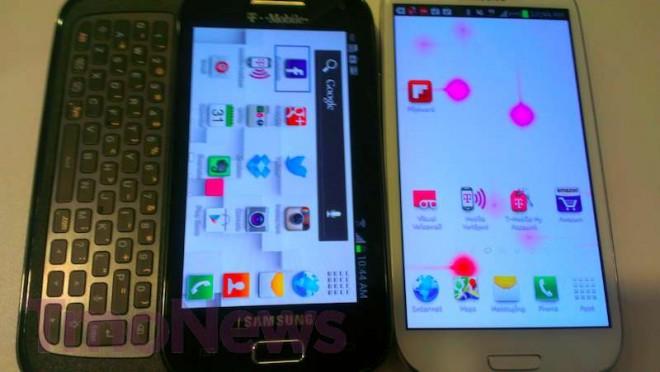 Update: After emailing T-Mobile, we've been told the off contract price is $499.99.
After getting a quick look at the Galaxy S Relay 4G yesterday, we've been handed some more images of the device hanging around in the wild, including a benchmark shot and a look at the smartphone cuddling up next to its Galaxy S III sibling. What's most noticeable and with the understanding that some of you place far more emphasis on benchmark scores than others is the 5070 Quadrant score, which is undoubtedly earned from a Snapdragon S4 processor.
Along with that are a set of shots showing the Galaxy S Relay 4G sized up to the Samsung Galaxy S III, a larger device. The Galaxy S Relay 4G sports a 4″ display against the Galaxy S III 4.8″ display, so it's easy to tell just how large or small the Galaxy S Relay 4G is. The Relay 4G sports Android 4.0.4 Ice Cream Sandwich, a 5 megapixel camera, QWERTY 5-row keyboard, microSD memory card slot, 4″ Super AMOLED display, and Wi-Fi calling.
The Galaxy S Relay 4G will drop on September 19th for $149.99 after a $50 mail-in rebate with a two-year Classic Plan. We've reached out to T-Mobile to confirm the no-contract pricing and will update the post when we hear back.